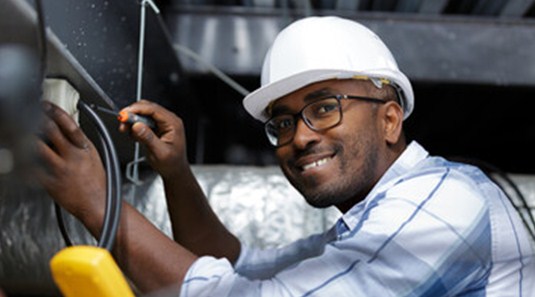 We can't live without HVACR installers and repair technicians at home and at work. They keep us comfortable year-round, and we depend on them when our equipment malfunctions. Homeowners learn how to do simple checkups and filter replacements but the vast majority of HVACR work is completed by trained technicians.
Today's heating and cooling technology are both more complex and efficient than ever before. Trained professionals keep on top of the latest equipment and systems to meet residential, commercial, and industrial needs. Their education and training must be current to work with such a wide range of HVACR challenges. The best approach to launching a professional career is by earning an associate degree in HVACR technology.
Air Conditioning Training and Education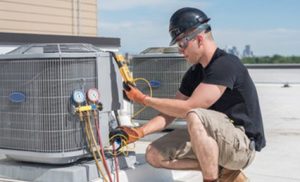 Air Conditioner training and education is available in an associate degree program as well as on-the-job training. The skills a technician needs for repair, maintenance, and installation are:
Diagnosing air conditioner (AC) devices, equipment, and systems
Understanding the components for repairs and maintenance
Removing and installing air conditioners
Providing annual inspections of equipment
Offering annual maintenance plans
Understanding the electrical wiring needed for all types of equipment
AC technicians must provide customer advice about the type and size of equipment that best fits their customers' needs. Typical residential systems include forced-air cooling and heating systems and split/mini-split systems. Other specialized systems for motels, hotels, hospitals, factories, and industrial plants must be installed and maintained.
Heating Skills Technicians Must Have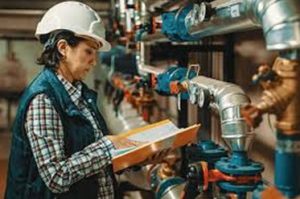 HVAC technicians must know how to work effectively with many types of furnaces and heating equipment. They must understand residential, commercial, and industrial projects ranging from installing a gas fireplace log to industrial furnaces/heaters. They must possess the skills to:
Work with a wide range of heating devices, equipment, and controls
Inspect, diagnose, and correct heating issues on many brands of products
Clean and oil equipment and replace air filters
Remove old systems and install new ones
Isolate electrical wiring issues and fix them
Understand and install the latest programmable thermostats
HVAC technicians are trained to provide effective advice for helping customers select the right equipment and fuel for their heating needs.
"Today's heating and cooling technology are more complex and efficient than ever before. Trained professionals keep on top of the latest equipment and systems to meet residential, commercial, and industrial needs."
Ventilation Keeps the Air Safe and Moving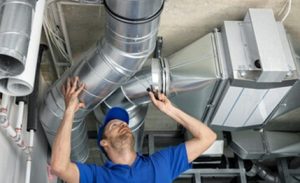 Ventilation work includes more than just installing ceiling fans in homes and businesses. It includes a variety of installations, repairs, and maintenance to keep the air clean and moving. A ventilation system is the delivery method for conditioned air either cold or warm.
These systems typically consist of ductwork through which air flows. The ducts should be connected solidly to prevent air leaks and insulation was needed to retain their air temperature. The size of the ventilation systems depends on the size of the room or building and the distance from the fan and its motor. Ventilation systems also:
Move air within rooms as well as bring it into rooms
Move unwanted air out of rooms to the outdoors
They May have humidifiers within them to add needed moisture
May also have dehumidifiers within them to remove excess moisture.
Technicians must wear many hats and heating homes and businesses are another one of them.
Refrigeration for the Retail and Commercial Sectors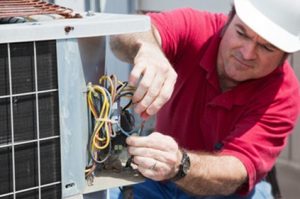 The next hat that HVACR technicians must wear is providing refrigerated coolers and rooms to keep a variety of products cold and fresh. Most of a professional's work is with retail stores, hospitals, florists, meat-packing plants, and produce distributors.
It's critical to keep many products cold to preserve their quality and life, such as food, blood, plasma, and medication. HVACR techs do not work on home refrigerators or freezes because their repair is left to appliance technicians. They have enough to do with all their regular duties and scheduling.
Electrical Wiring Is at the Heart of HVACR Work
Underlying all HVACR work is the correct wiring of equipment and devices for heating, cooling, ventilation, and refrigeration. Technicians learn the basics of electricity and electronics in college related to the equipment they work on.
Technicians can diagnose electrical parts and repair or replace them for their proper functioning. Their tool kit allows them to keep our homes and businesses comfortable.
Learn more about all the technical programs ITI Technical College has to offer in Baton Rouge.
For more information about graduation rates, the median debt of students who completed the program, and other important information, please visit our website at: https://iticollege.edu/disclosures/