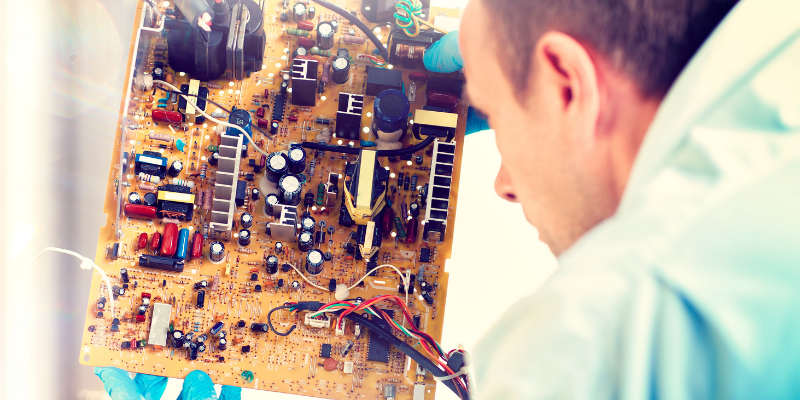 If you're looking for an Automation Electronic Systems School that can provide you with the training you need for a successful career in automation, ITI Technical College is the place for you. We would be happy to discuss our program with you and answer any questions you may have.
An electronic system is a collection of electrical and electronic devices, circuits, or systems designed to achieve a common goal. Automation usually refers to the use of electromechanical systems such as motors, actuators, and sensors to control industrial machinery and processes.
Automation Electronic Systems Program
The Automation & Electronics System Technology program is designed to equip the graduate with real-world skills in analog and digital electronics, with a focus on microprocessor control.
All electronic principles presented are supported extensively with hands-on labs that concentrate on the use of equipment used in troubleshooting today's electronic control systems.
The graduates are functionally skilled in the use of Digital Multimeters (DMMs), oscilloscopes, function generators and logic probes to name just a few.
The students will participate in introductory and advanced level courses in Programmable Logic Controllers (PLCs) as they apply to commercial and industrial control, motor control.
A basic networking course will introduce the student to the equipment and concepts used in setting up a basic computer network.
All graduates will take the Low Voltage and Fiber Terminations course. Then the students end their training with the introductory and applied microprocessor (μP) courses.
In the introductory course, the student will build their own microprocessor trainer as they learn microprocessor architecture and basic I/O systems.
The applied μP course uses the Arduino* platform to allow the student to design and construct a final control project of their choosing. Basic computer applications and applied technical writing are also on the schedule for successful graduates.
Elective course choices include instrumentation courses covering the basics of flow, level, temperature and pressure. Information Technology courses such as networking software applications, network security, and web design are offered along with an A+ certification course.
The successful graduate of this program will be prepared for an entry-level work in industrial and commercial electronic applications, capable of installing, maintaining and troubleshooting basic electronic equipment and systems such as industrial control systems, ROV (remote operated vehicle) systems, home automation systems, alarm systems and video monitoring systems to name just a few.
The graduate may also choose to work with electronic systems for industry, which could include medical equipment, or communications equipment.
Automation Electronic Systems Training
The Automation Electronic Systems Training is designed to provide students with the skills and knowledge required to install, maintain and troubleshoot modern electronic automation systems. The curriculum covers a wide range of topics, including industrial controls, programmable logic controllers (PLCs), robotics, and machine vision.
If you're looking for an exciting and challenging career in automation, then the Automation & Electronic Systems Technology (AOS) at ITI Technical College is for you!
For more information about graduation rates, the median debt of students who completed the program, and other important information, please visit our website: ITI Disclosure
Automation & Electronic Systems Technology
Associate in Occupational Studies Degree Program AET50T-14
Major Occupations for which graduates will be qualified:
Classification of Instructional Programs - Occupational Title
.
Classification of Instructional Programs - Occupational Title
CIP Code
15.0303 – Electrical, Electronics & Communications Engineering Technology/Technician
.
APPLY
NOW
PROGRAM
DISCLOSURES