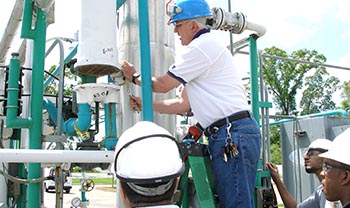 An intensive program that begins with a review of mathematics and proceeds to Electronics as well as Instrumentation subjects of pressure, level, temperature and flow. Process Technology courses include industrial pump applications, operations, maintenance, and troubleshooting of the many types of pumps used in the industry. 
Compressors and turbines and their prime movers are thoroughly covered in their course sections. Next, a return to basic electricity, industrial electricity and programmable logic control basics. The student will proceed through basic temperature, hydraulics, flow, basic analytical devices, basic valves, and final control elements, basic documentation, and process control theory. The program includes introductory courses to personal computers, technical writing, and industrial safety & environmental practices.
Will be prepared to operate industrial process equipment at an entry-level position. Graduates may apply their skills to their present occupation in a related discipline. Technicians may be employed with industrial groups including aeronautics, chemical, petroleum, foods, metals, ceramics, pulp and paper, power, and textiles.
The Process Technology (PTEC) Degree Program is endorsed by the North American Process Technology Alliance (NAPTA) and is recognized by the Greater Baton Rouge Industry Alliance (GBRIA).
Process Technology Program
Process Technology Program is a specialized branch of engineering that deals with the design and construction of equipment for chemical, biological, and physical/mechanical processes. Process engineers have to be knowledgeable about all aspects related to their field such as mechanical systems, robotics, electrical systems, control systems, safety issues etc. Process technologies also includes industrial process management which covers topics like production scheduling or planning project budgets.
Students looking at taking up this course should know that admission requirements vary so you need to do your research 
before applying but in general; 
Process Technology is the fourth major professional area of engineering in an Advanced Manufacturing company and it typically includes process design and optimization, production processes (including material handling), control systems, operator training, troubleshooting procedures for malfunctions or failures that occur on a day to day basis.
Process Technicians are responsible for understanding how each system component will work with other components to create a desired outcome. They must have strong mechanical aptitude as well as experience working with technical plans and drawings – similar to what architects do when they develop structures from blueprints or engineers who use schematics and sketches to figure out how machines might be built and operated.
Process Technology School
Admission to the Process Technology Program is competitive. Students will need a high school diploma, or equivalent degree in order to be considered for admission into the program. If you are not sure if your current coursework meets these requirements, please contact our admissions department at (877) 211-7165.
ITI Technical College offers training programs that provide students with hands-on experience and education about careers in process technologies such as Chemical Engineering, nuclear power generation technology and oil refining.
Process technicians have to learn a wide range of skills from drafting, measurement, instrumentation, physics, chemistry as well as math.
Process Technology Career Requirements
In order for someone to become an engineer or technician they need at least an associate degree from either technical school or community college. Those who do not have any experience professionally are encouraged to look into this program because it gives them access to those skill set while also providing ample opportunity for personal development through internships as well as other networking events which happen throughout the duration
It is important that a student has the required qualifications before applying to Process Technology programs. 
Process Technology Training can be undertaken at many different levels depending on which level you feel most comfortable starting from; after all it's quite easy to take one step back if you're feeling overwhelmed but when committed there is nothing better than taking two steps forward!
The Process Technology Program trains students in the skills needed for fabrication and assembly of semiconductor devices. This course will provide you with an understanding of how to work safely, productively, and efficiently within this process environment.
Process Technology Training Admission Requirements:
– You must be 18 years old or older at time of enrollment
– Necessary math courses such as Trigonometry/Algebra I & II (or equivalent) with college preparatory high school curriculum are required for entrance into training classes
– A two year Associate's degree from a recognized institution may be accepted as the prerequisite requirement provided it includes all necessary math courses listed above
Process Technology is one of the fastest growing fields in Engineering and Science. It's a career that deals with industrial engineering, management, process design, or chemical engineering. Process technology jobs are well-paying and highly competitive positions which require people to have an understanding of how projects work from start to finish.
The good news for you as an individual who wants to get started in this lucrative field is that there are a number of ways to do so, ITI Technical College offers courses ranging from basic principles of Process Technology all the way up to more technical areas such as hazardous waste disposal systems.
For more information about graduation rates, the median debt of students who completed the program, and other important information, please visit our website: https://www.iticollege.edu/disclosures.htm
References and Resources:
Associate in Occupational Studies Degree Program PT30T
Major Occupations for which graduates will be qualified:
Classification of Instructional Programs - Occupational Title
.
Classification of Instructional Programs - Occupational Title
15.0613 – Manufacturing Engineering Technology/Technician
.
APPLY
NOW
PROGRAM
DISCLOSURES