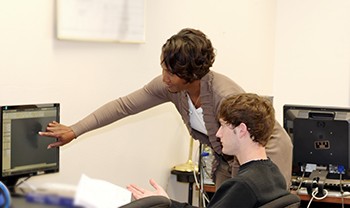 Office Administration is a field of employment in the business world. It often consists of clerical and administrative duties, such as answering phones and arranging appointments for the office workers. Although it may seem like a simple job, there are many skills required to be an effective Office Administrator.
An Office Administration School provides you with the skills and knowledge that are necessary for an administrative position in any office environment. The course will provide you 
with basic computer training in Microsoft Word, Excel, PowerPoint, Outlook, and Access. You will also learn how to use QuickBooks accounting software as well as Sage 50 Accounting Software (Simply Accounting). In addition to your computer courses, you will also be taking courses in Business English, Keyboarding, and Filing Skills which includes speed building techniques and document formatting.
Office Administration Program
An intensive program in Office Administration begins by creating a solid foundation of skills through an introduction and overview of the business office setting. The student will become familiar with general business practices, office etiquette, computers, the most current Microsoft Office software, business computer applications, and equipment. Business and Technical Writing courses will help the student become an effective communicator, both written and oral. The student will be exposed to the application of management principles and practices as they relate to the office professional.
Included are two elective course choices that allow the student to tailor their studies in a more direct path of their interest. Some of the electives include Accounting, Human Resources, Business Law and Ethics, Web Design, Graphic Design, and Business Finance courses. Students may choose to apply for an externship to use their skills in a professional work environment instead of the elective courses.
Graduates of the certificate program will be prepared for employment in a variety of careers in the private and public sectors including banking, sales, insurance, legal and medical offices, as well as in government offices.
Office Administration Training
Office Administration Training can be a great way to gain experience in the business world and build your skillset.
If you are looking for a career that is both challenging and rewarding, office administration may be the perfect fit for you. Office administrators work in a variety of settings, including businesses, hospitals, schools, and government agencies. The duties of an office administrator vary depending on the type of organization they work for, but generally include tasks such as managing schedules, preparing reports, handling correspondence, and fielding phone calls.
For more information about graduation rates, the median debt of students who completed the program, and other important information, please visit our website: https://iticollege.edu/disclosures/
Certificate Program OA10T
Major Occupations for which graduates will be qualified:
Classification of Instructional Programs - Occupational Title
default
Classification of Instructional Programs - Occupational Title
52.0408 – General Office Occupations and Clerical Services
default
APPLY
NOW
PROGRAM
DISCLOSURES