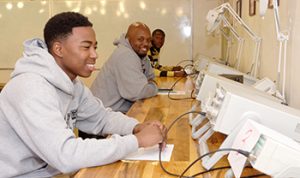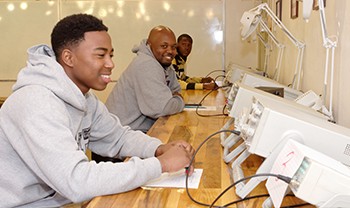 The Electronics Technology Program is specifically designed to equip the graduate with entry-level skills for installing, maintaining and troubleshooting basic analog and digital electronic equipment. Elective course choices all the student to pursue additional courses of their choice and include computer repair, networking software applications, network security as well as Relay logic & programmable controllers. Students begin with direct current circuits and progress through basic DC electronics into fundamentals of analog electronics. Diodes and transistors, op-amps, and integrated circuits become very familiar through laboratory experiments in each section. The classroom theory is immediately applied in carefully designed laboratory projects.
For the student that may desire to work in the security or controls field there are elective course choices of relay logic & motor controls as well as programmable controls.
Electronic Systems Program
The Electronic Systems Program provides students with a comprehensive understanding of the design and operation of modern electronic systems. Through coursework and hands-on labs, students learn about digital logic, microprocessors, programmable logic controllers (PLCs), communication networks, and industrial control systems. The program prepares graduates for careers in electronics engineering, computer engineering, and systems engineering.
Graduates of the Electronic Systems Program are employed in a wide variety of industries including automotive manufacturing, aerospace engineering, energy production, telecommunications, and medical devices. They work as engineers designing new electronic systems or improving the performance of existing systems.
Electronic Systems Training
Electronic Systems Training is a core element of modern military and security operations. The reliance on technology, particularly in the areas of communications, information management, and surveillance means that the training requirements for personnel who will be operating this equipment are as important as ever. To work on electronic systems, a technician must be properly trained.
For more information about graduation rates, the median debt of students who completed the program, and other important information, please visit our website: ITI Technical Disclosures
Electronic Systems Technology
Certificate Program EC10T
Major Occupations for which graduates will be qualified:
Classification of Instructional Programs - Occupational Title
default
Classification of Instructional Programs - Occupational Title
15.0303 – Electrical, Electronics & Communications Engineering Technology/Technician
default
APPLY
NOW
PROGRAM
DISCLOSURES