The President of ITI Technical College and Marine Veteran, Joe Martin III believes that every Veteran should have military information to pursue a college education. For those individuals who have served in the United States Armed Forces ITI accepts the following VA Program benefits: 
The Post 9/11 GI Bill®
The Montgomery GI Bill® – Active Duty
The Montgomery GI Bill® — Selected Reserve
VA Vocational Rehabilitation®
Reserve Educational Assistance Program® – (REAP)
The Survivors' and Dependents' Educational Assistance Program® – (DEA).
More Military Information And Other Benefits
In addition to these programs, ITI Technical College provides several resources and services for our student veterans. We strive to make sure that all veteran students have the support they need to be successful at ITI Technical College.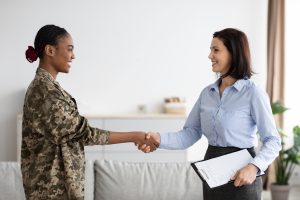 We offer career counseling to help our veteran students navigate their academic and professional goals. ITI Technical College also supports veterans through a variety of services such as academic advising, tutoring, mentoring, and support groups.
ITI Technical College
ITI Technical College is an accredited institution located in Louisiana. We offer high-quality educational programs designed to meet the needs of today's workforce. We have been operating for over 50 years and provide a wide range of technical training, degree programs, and professional certifications for students seeking career advancement.
Our faculty and staff are committed to creating a learning environment that is engaging, challenging, and supportive. We ensure our students receive the highest quality education possible by setting rigorous standards for our curriculum and providing outstanding support services. Our graduates gain valuable skills that prepare them for successful careers in their chosen fields. 
By investing in ITI Technical College, you can secure your future success in today's competitive job market. With our cutting-edge programs and resources, we are sure to help you reach your goals. Whether you choose an associate's degree program or certification courses, you can be confident that ITI Technical College will provide the necessary tools to get ahead in this ever-changing world. Invest in yourself today – start your journey at ITI Technical College!
For more information about graduation rates, the median debt of students who completed the program, and other important information, please visit our website: https://www.iticollege.edu/disclosures