ITI Technical College is located on a 6-acre campus at 13944 Airline Highway, Baton Rouge, Louisiana. The College provides the best facilities like air-conditioned classrooms and laboratories, comfortable seating, and well-lighted classrooms with approximately 56,700 square feet devoted to training. Modern equipment is available and provides the student with a wide variety of challenging projects.
Our labs and classrooms may include but are not limited to:
Computer Aided Drafting Facilities
Drafting & Design classrooms are equipped with compatible operating systems and current Auto CAD™ software.
Information Technology Facilities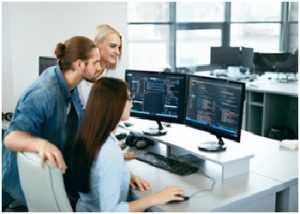 The Information Technology labs will expose students to common software development systems such as C#™, Visual Basic™, Microsoft SQL Server™, and several others in a LAN environment. Our Networking computer labs have fully operational local area networks with popular software applications such as Microsoft Office, Microsoft Works, and Microsoft Server.
The process plant, an industrial distillation unit, provides ITI students an opportunity to train with working pneumatic, electronic, and electrical systems similar to what they will encounter in the workplace. A working instrument shop supervised by highly experienced instrumentation instructors simulates on-the-job training for students.
The electrical lab, equipped with field-grade equipment, allows students to build and troubleshoot electrical circuits as well as become familiar with programmable logic controllers (PLCs).
Air Conditioning Facilities
Air Conditioning laboratories are equipped residential and commercial air conditioners with electric and gas heat, soldering and brazing stations, refrigerant recovery equipment, commercial refrigeration and ice machines, and functional air and water cooled heat pump systems.