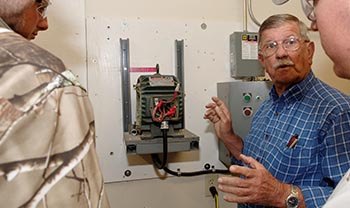 Electrical Technology is a broad term that refers to any technology that uses electricity as its primary energy source. This can include anything from simple household appliances to large-scale industrial equipment. Electrical Technology Schools offers a solid background in the use of basic circuitry used in residential, commercial and modern industrial applications.
AC and DC motors, motor controls, switch relay systems, transformers, solid-state logic and control functions, safety practices, the National Electric Code (NEC), blueprint reading and other areas are thoroughly covered. Students will learn to work safely and efficiently while they are applying the classroom work to actual equipment in our well-equipped laboratory. The instructor gives close personal supervision in all areas for maximum teaching effectiveness.
Electrical Technology Program
An Electrical Technology Program prepares students for an entry-level position in the electrical industry. The core curriculum consists of introductory courses in electricity, communication systems, and computer technology. These courses give students a foundation to build on as they advance through the program where they will master more advanced skills such as motor controls, transformers, switch gears, and power circuits.
 Electrical Technology Training
Electrical Technology is a field that is constantly growing and changing. It can be difficult to keep up with the latest advances, but it's important to do so to stay competitive. That's why Electrical Technology training is so important. It can help you learn about the latest technologies and how to use them effectively.
It is a field that is growing more and more popular every day. If you are interested in this field, it is important to get the right training. ITI Technical College offers classes for a degree in Electrical Technology (Certificate). Contact us now at (225) 752-4233 and apply today!
For more information about graduation rates, the median debt of students who completed the program, and other important information, please visit our website: ITI Technical Disclosures
Certificate Program ET10T
Major Occupations for which graduates will be qualified:
Classification of Instructional Programs - Occupational Title
default
Classification of Instructional Programs - Occupational Title
default
APPLY
NOW
PROGRAM
DISCLOSURES