CAD as a Career Path - What to Know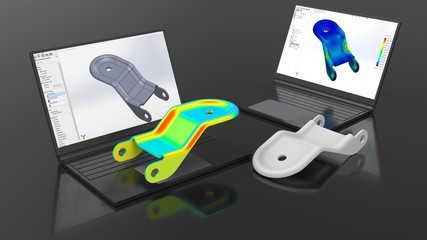 Since ancient times, individuals skilled with drawing abilities have helped design buildings and products for their contemporaries' benefit. The history of drafting has gone from crude layouts on whatever materials were available at the time to detailed designs on paper to Computer-Aided Drafting (CAD).
Virtually all industries need employees who can express ideas, mechanisms, buildings, homes, roads, bridges, and a myriad of other objects on paper and computers. The future still shows growth opportunities in the U.S. and abroad. Let's explore what this challenging and unique career is all about.
What CAD Is All About
CAD takes drafting to a higher level by using advanced software to create realistic drawings that can be seen in 3-D. It's easy to see the objects being drawn from all sides and it's easy to make changes and store them for future use. CAD jobs are available in these specialty areas today: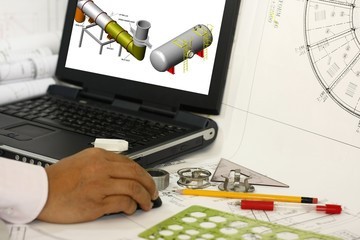 Pipeline Construction
Mechanical Engineering
Military Applications
Electrical Applications
Electronics
Civil Engineering
Architecture
Aeronautics

Pipeline drafters generate drawings for use in the layout, construction, operation, and repair of pipelines for oil fields, gas fields, chemical companies, refineries, piping system manufacturers and suppliers. Mechanical drafters work with creating drawings of the details of devices and machinery and assemblies of products. Soldiers draw charts, maps, construction materials, surveys, and perform field tests using CAD.
Those who work in electrical and electronics applications generate diagrams of wiring layouts, circuit board assemblies, electronic and electrical equipment, installations of appliances, and repairs of equipment. Civil drafters work with drawings of the lay of the land for bridges, dams, highways, floodways, pipelines, and sewage systems. Drafters in the architectural field draw houses and commercial buildings for construction projects. Aeronautical drafters prepare drawings that outline the specifications and plans for making and modifying airplanes, helicopters, missiles, rockets, and their parts.
Job Outlook and Career Path in CAD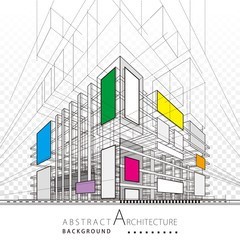 The good news about CAD jobs is there are always hundreds of them available in the U.S. at any one time. This traditional career is expanding in its scope and relevancy because some drafters are taking on some duties that have been typically performed by architects and engineers. Those with a high degree of CADD software and technical skills in the field will go fare.
The future of this profession is in computers and the use of new CAD and CADD software. With your degree and a little experience, you can land a good entry-level job and move into one of the specialty areas in the future. The US Bureau of Labor Statistics revealed in 2019 there were 200,900 people employed in drafting jobs. The majority of current jobs lie in the architectural and civil drafting specialties while the highest growth is in electrical and electronics drafting.
Employees who hold one or more certifications granted by the American Design Drafting Association (ADDA) will have the best chance of holding on to their jobs or getting another one. Add these to your two-year college drafting and design degree and you will be on your way to a successful career.


"Virtually all industries need employees who can express ideas, mechanisms, buildings, homes, roads, bridges, and a myriad of other objects on paper and computers."

What It Takes to Succeed in Computer-Aided Drafting
Anyone interested in a long-term career in drafting and design needs a college degree such as an Associate in Occupational Studies (AOD) CAD Degree. You also need these abilities and skills:
A self-motivating personality and a person who wants to keep learning new things.
High degree of visualization skills in 3-D forms and shapes
Detail-oriented who wants to be precise and accurate
An attitude of making quick revisions and constant change to meet job and industry requirements
Enjoys being a good team player, helping other colleagues and takes supervision well
Good working knowledge of building materials for residential and commercial projects

Career Explorer gives you a good overview of the demand and job market by state.

Get Your College Degree in Drafting and Design
You will be ahead of the game by obtaining a degree in drafting and design – not just drafting. An Associate in Occupational Studies (AOS) Degree in a strong program will provide a wide range of training. In this program, you will receive more education in Computer-Aided Drafting that uses the latest industry software. The skills you will develop in class and labs will open the way for a wide range of jobs.
Be selective in choosing the college by determining its faculty has real-world experience in the field of drafting and design. In your research, find a school that has smaller classes that provide more one-on-one instruction and mentoring. You will find this list of tools for success in college and a better life very helpful.

Where to Go to School for CAD
ITI Technical College in Baton Rouge is fully accredited by the Accrediting Commission of Career Schools and Colleges (ACCSC). Faculty and staff are well prepared in providing skills training, career education, counseling, and financial aid possibilities. Now is the best time to get started on a super career path.

Resources and References: