Founded in 1973, ITI Technical College has been committed to growing the knowledge base of students for over 40 years. We feel that a technical education in a world full of rapidly growing technology gives students an excellent opportunity to learn and become educated in a way that translates to the real world. As a result, our students leave our programs ready to work and be exemplary employees. Over the last 40 years, we have watched as technology has grown at an astounding rate. We have kept up with the times in preparing students for jobs in many industries such as instrument and control systems, refrigeration, heating and air and electrical systems as well as training individuals to work in office administration.
All these job fields have one thing in common; they have continued to advance and change over the last couple of decades as older technology has improved and new technology has been developed. Now there is a new technological threat on the horizon. The theft of identifying personal information and a company's secure operating information has become a real threat in the technological world. There is a growing demand for information technology personnel that have knowledge and experience in information security training. ITI College is ready to provide that training to our students in order to fulfill that demand in our current job markets.

Information Technology Security Careers
Information technology security careers are one of the fastest growing job markets in the world today*. Almost every major company uses the World Wide Web and internal computer software to run their business. That means the information they have is at risk. With the development of new ways to conduct business using the internet comes a new breed of criminals that are keeping up with technology just as fast as the business world and sometimes even faster! Companies are in dire need of security specialist in positions as varied as Malware analysts, security specialists, consultants, and security engineers. ITI can take you to that next level of information technology with our Information Technology program.
You will be prepared to advance your career in the IT world by having a valuable asset that companies are scrambling to acquire. If you already have IT experience or certification, ITI's courses in information security training can only add to the repertoire of skills you bring to the interview table. We offer a well-rounded program in Information Technology, with focus either in Programming or Networking.  The Networking program has a much more focused security aspect including a course in computer forensics and information security, giving you the skills to recover lost data and preventing lost data and information before it starts!  With this type of training, skills like this will become more and more vital to companies for the foreseeable future.
Information Technology Security Officer
If you are interested in becoming an information technology security officer and increasing your value to employees across the globe call ITI today.
ITI has a beautiful campus in Baton Rouge, Louisiana where we have been located since 1979. With six acres of classrooms and facilities, our students stay up to date on the latest technology in the world today so our they are ready to join the workforce and begin a fulfilling career. Visit our website to get more information. When you visit our website, you can explore the different programs offered by ITI as well as access an online application and information about financial aid. At ITI, we are committed to giving every student the best chance at success not only in school but in the real world with real skills that are needed in the workforce of America and the world. A huge demand from companies all over the world ensures that this career choice can be a fruitful one for any student.
Information Security Training at ITI
In today's technology filled world, information is everything to many people. Information security skills are crucial and in high demand throughout many job fields. You can gain the skills and experience necessary by enrolling in our information security training program at ITI. We offer classes that are convenient, affordable, and can be arranged around your schedule.
Responsibilities
When you work in information security for a company, you will be responsible for keeping threats away while protecting their-
These threats can include:
Security breaches
Attacks by cybercriminals
Computer viruses
When these issues arise within a company, it can disrupt daily activities and lead to a loss of information that should have been kept confidential. If this occurs to an organization, they can lose a lot of money and even get fined for not protecting the confidential data. This means that your job position is strategically important and necessary within the company.
Courses for Information Security Training
You will gain experience and knowledge in the following areas:
Information assurance
Network security
Web security
Computer forensics
Cryptography
Software design and analysis
The best aspect of our program is the hands-on experience that you will gain with our courses on campus.
Skills Needed in Information Security
You will need to possess numerous skills in addition to your education to be successful in your career. You will need to have the following: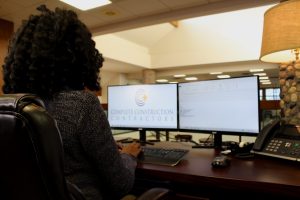 Understanding of the challenges that you may face
Excellent analytical abilities
Superior problem-solving skills
Ability to identify and fix security risks
Superb communication skills
Ability to work alone or with a team
If you feel that you have what it takes to work in this field, fill out our form today for more information on how to get enrolled today!
Job Duties
When you work in information security, you will have specific job duties including:
Coordinating the development of security standards and policies
Maintaining security policies and standards
Developing solutions to issues
Strategically planning how to balance access to information
Coordinating investigations of security incidents
Finding resolutions to security breaches
Implementing a training education program
Talking to businesses about their data risks
Advising organizations on how to properly handle them
Offering consulting services
Assessing a company's security measures and finding vulnerable areas that need improvement among-

Firewalls
Anti-virus software
Passwords

Carrying out simulated attacks to test current security measures
Prioritizing security coverage to make sure that confidential information has the highest level of protection
There will never be a dull moment in your career when you choose to enroll in our information security program.
Job Growth
Since technology growing at a rapid pace, a number of job positions that will be available over the next five to 10 years will be numerous.
Build Your Career with our Flexible Program
If you are looking for an exciting career, information security may be what you are looking for. By clicking here, you will be able to see why you take these courses. With this job, you will deal with an extensive set of threats such as:
Natural disasters
Power outages
Internal data theft
Viruses
Compatibility problems
Hardware failure
Our college offers help with job placement assistance once you have completed your program, and financial aid is available for those who qualify.  ITI Technical College can help you get the career that you have always wanted!
Source:  * http://www.bls.gov/ooh/computer-and-information-technology/information-security-analysts.htm
For more information about graduation rates, the median debt of students who completed the program, and other important information, please visit our website: https://iticollege.edu/disclosures.htm