Instrumentation Technology Training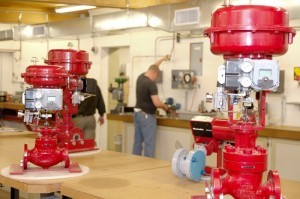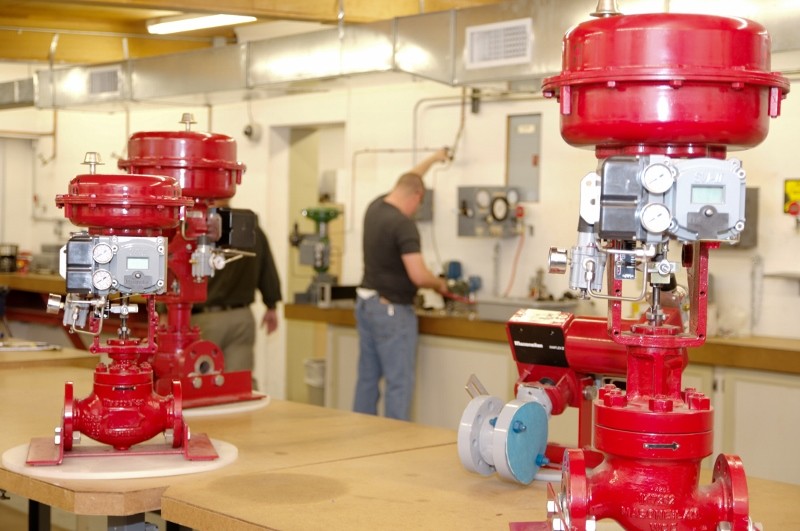 Instrumentation technology courses will teach you how to install, maintain, test, and calibrate highly complex devices that are used in the automation of industrial processes. The devices that you will work on are used in automated production and manufacturing and measure and control the following:
Temperature
Pressure
Level
Flow

With this education and training, you may have a chance to work with the following technologies:
Piping
Process
Chemical
Pneumatic
Hydraulic
Electrical
Medical equipment
Electronic
Computer and Networking

Our program will prepare you for repairing, maintaining, and installing control equipment used in the above industries. When you graduate, you may be able to design and test new equipment or you may be employed to ensure the systems run safely. At ITI, we can give you the hands-on training and education that you deserve so that you can find the job that you want!
Instrumentation Technology Courses at ITI
If you are interested in this program, you can enroll for either a two year program (AOS) or a certification program which is 15 months. These both will provide you with skills and technical knowledge that is needed to be employed as an instrumentation technician in diagnostics, maintenance, production, or engineering in automated systems. You may have heard this job referred to as maintenance technicians, electrical technicians, or control technicians. These are the employees that keep automated systems up and running. Automation that you may work on can vary and may include:
Pneumatic control
Three-phase motor control
Programmable logic controllers (PLCs)
Computer

Our curriculum will focus on classes that will give you the skill set needed to excel in your job as an instrumentation tech. Your courses will include classes on:
Electricity
Electronics
Motors and controllers
Fluid power
Robotics
Programmable controls
Interfacing technology
Instrumentation and automated machine processes

These are just a few of the courses that you will take while attending ITI and working toward your Associated Degree in Applied Science.
Instrumentation Technology Career and Salary
Our program will prepare you for an entry-level position as-
Construction and Maintenance Instrument Tech
Instrument and Electrical Tech
Process Tech
Contract Tech
Sales and Services Rep

Employment outlook for this job is excellent, especially if you are skilled and well trained. Throughout the next 10 years, job positions are expected to increase. Jobs may open in the following:
Processing plants
Power distribution
Shipyards
NASA
Offshore industries
Industrial research firms
Refineries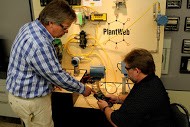 Each day, the demand for automated processes continues to grow. For this reason, expectations for technical performance will continue to increase. With that being said, employment opportunities in this field will continue to grow. Once you graduate from this program and begin looking for a job, you will be able to find a variety of hourly wages that vary depending on location, offshore work, or your experience. Median annual salary was reported to BLS as $62,950 for this job field.
Job Positions for Instrumentation Technology
This job will offer you challenging and interesting employment from day one. You may be employed in the following:
Environmental quality and emission monitoring
Metal refining
Instrument manufacturing
Building and amusement park automation
Nuclear and conventional power plants
Mining
Pulp and paper production
Petrochemical plants
Offshore services
Petroleum refining
Automobile manufacturing
Water and sewage treatment plants
Plant construction
Aerospace & defense technology
Engineering and design services
Food and beverage processing plants

Your job title will vary and be based on the industry in which you work along with what your specialty is. Common careers that you may have can include:
Instrumentation Technician
Quality Control Technician
Process Control Instrumentation Specialist
Electrical Instrumentation Technician
Careers in Process Technology

If you are interested in working in any of the above locations, give us a call to enroll today!
Skills and General Requirements for Instrumentation Technicians
There are many fundamental skills that will be needed for this job such as:
Physical agility
Mechanical aptitude
Algebra, Geometry and Trigonometry
Reading
Writing
Physics

Other courses and skills that may be helpful can include:
CAD
Drafting
Lettering
Electronics and computer technology

Sometimes, when you are applying for a position as an instrumentation technology, you may see that requirements including lifting and climbing since not all automation processes will be on the ground.
In this job field, you will need to be able to trouble shoot, solve problems, work well as a team member, and be able to self-direct. You will have constant on the job training. In fact, some employers will require you to have 12 months on the job training, work experience, and classroom learning in order to excel with job performance. These positions may offer an apprenticeships or short intensive training sessions.
Instrumentation Technology Education
On the job training is important with this job field but education is just as critical. In fact, the BLS (U.S. Bureau of Labor Statistics) shows that many employers prefer to hire techs that have associates degree and/or other training. At ITI, you will be able to receive the degree that employers want along with the hands-on training that will help you rise to the top of other prospective employees.
The curriculum that you will take will prepare you for your career and teach you about-
Direct and alternating current electronics
Liquid and gas pressure measurement
System drafting and design
Safety systems
And more!

Our classes offer lab components so that you will be able to apply your knowledge to real world situations which is what employers will look for when hiring.
Certification for Instrumentation Technicians
Following graduation, there are further certifications exams that you can sit in for once you meet the education and experience requirements. You can learn more about this certification from the International Society of Automation.
Choose ITI for Instrumentation Technology
At our college, you will be able to get the education, skills, and experience needed to start your career. You will be able to find classes that fit your schedule and we can help you find out if you qualify for financial aid or student loans. Give us a call today and begin your future!
For more information about graduation rates, the median debt of students who completed the program, and other important information, please visit our website: https://iticollege.edu/disclosures.htm