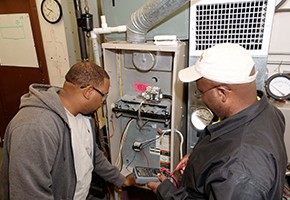 Air conditioning is the process of removing heat and moisture from the air. This is done to make a comfortable environment for people and equipment. Air conditioning can also be used to control humidity levels.
When you are looking for an Air Conditioning School, there are many things that you will need to take into account. The most important thing is to find a school that is accredited and has a good reputation. You will also want to make sure that the school offers programs that match your needs and interests.
Air Conditioning Program
An Air Conditioning Program teaches you how to install and maintain heating, ventilation, and air conditioning (HVAC) systems. You will learn about the laws of physics that govern thermostat settings, refrigeration cycles, electrical circuits, motors, and controls. You will also become familiar with the tools used in HVAC installation such as torque wrenches, calipers, and multimeters.
This accelerated program is designed to permit the student an opportunity to learn the concepts and practices of Refrigeration, Air Conditioning and Heating equipment and the Electrical Technology required to work in this fast growing industry.
The student will be presented with the fundamentals of heat transfer, refrigerants, safe work practices, electricity, and the regulations governing the use of these systems. The student will be trained in AC load calculations, application, and troubleshooting of refrigeration and A/C systems in lecture and laboratory activities, using actual field grade equipment.
HVAC certification exams are given during the program to allow the student to obtain industry competencies in the area of HVAC/R.
Air Conditioning Training
Our Air Conditioning & Electrical Technology (Certificate) provides students with the knowledge and skills necessary to safely operate an air conditioning unit in a commercial setting. Students will learn about different types of air conditioning units, how to troubleshoot common problems, and how to properly maintain an AC unit.
Air Conditioning Training is a critical part of any HVAC technician's education. It can be the difference between a job well done and an expensive repair bill. The best way to learn air conditioning is through hands-on experience, which is why most technicians receive their training in an apprenticeship program.
For more information about graduation rates, the median debt of students who completed the program, and other important information, please visit our website: ITI Technical Disclosures
Air Conditioning & Electrical Technology
Certificate Program AC10T
Major Occupations for which graduates will be qualified:
Classification of Instructional Programs - Occupational Title
default
Classification of Instructional Programs - Occupational Title
47.0201 – A/C, Ventilation and Refrigeration Maintenance Technology/Technician
default
APPLY
NOW
PROGRAM
DISCLOSURES