Organized and efficient companies use highly-trained office administrators as members of their management teams. They stay on top of the day-to-day and week-to-week business functions and serve as liaisons with middle management. Without them, upper management would be distracted from working on the 'big picture' of their organizations' goals and objectives.
Both for-profit and not-for-profit organizations need competent office administrators and office assistants to train and supervise new office workers. They serve as front-line ambassadors for their employers when communicating to customers, vendors, visitors, accountants, and others. Demand for office administrators is growing, and today, they act in dual roles in their jobs.
The Demand for Well-trained Office Administrators Is Growing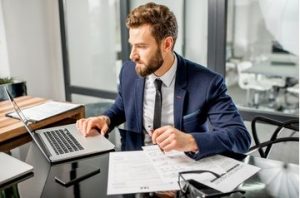 All organizations need office administrators, sometimes called office managers, to help them run smoothly. According to the Bureau of Labor Statistic,s a steady 6% projected job growth rate from 2019 – 2029 which is faster than average.
It is safe to say that organizations cannot function without a great administrative staff. There is too much to do on a routine basis without an administrator who is well-versed in general business functions. They 'wear several hats' each day at work. Let us explore them in detail.
How Office Administrators Play Dual Roles in Their Positions
Office Administrators work both as managers in taking charge of office activities and people and as employees who carry out day-to-day functions. Office administrators come to work each day expecting to meet many different challenges.
They communicate with outside parties and act as gate-keepers.
Money flows through their hands while coordinating with accounts payable and accounts receivable.
They must train and supervise new employees as well as current ones by acting in a human resources role.
Office administrators complete and keep track of forms, filings, and processes to ensure company compliance with standards in their industries.
They are responsible for keeping the office organized and running efficiently.
"All organizations need office administrators, sometimes called office managers, to help them run smoothly. The Bureau of Labor Statistics shows a steady 6% projected job growth rate from 2019 – 2029 which is faster than average."
In small businesses, the office administrator may also act as the human resources manager.  Owners cannot justify paying two people, so they use one competent person for both positions.
The work-life of an office administrator is both a challenging and rewarding career.
Top Skills and Knowledge Needed for Office Administrators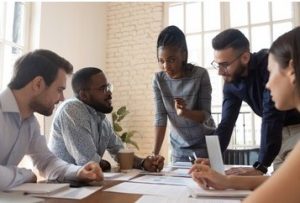 Most employers require OAs to have an Associate Degree in Office Administration. If you are in high school and want a future position in office administration, you should take classes in:
Word processing and desktop publishing
Spreadsheets and Microsoft Office
General business courses
You will be a step ahead when taking college courses and further enhance your employability.
Job candidates need skills in general administrative functions, oral communication, office etiquette, office equipment, supervising people, business writing, and professionalism. You will further increase your chances of landing a good job by grasping the fundamentals of:
Bookkeeping and Accounting
Business Law and Ethics
Business Terminology and Finance
Web Design and Desktop Publishing
Computer Networking
Elective Courses geared to your interests
While in college, you may choose to apply for an internship to use your skills in a professional work environment instead of taking elective courses. One of the benefits of an Associate in Occupational Studies (AOS) Degree in Office Administration is the proliferation of job possibilities.
Is General Office Administration or Healthcare Administration the Right Career for You?
Some colleges offer students the choice of majoring in general office administration or healthcare administration. These schools offer a wide range of educational concepts and skills training directly related to your job aspirations. Technical colleges get right to the point and do not ask you to take a lot of general courses that do not interest you.
With a projected 6% job growth rate during the next decade, a career in OA looks promising. Jobs in this field are not limited to just a few states because the demand is universal.
For more information about graduation rates, the median debt of students who completed the program, and other important information, please visit our website at: https://iticollege.edu/disclosures/