Popular technology degrees prepare students for great entry-level jobs with hands-on training. Better schools keep their curriculums up-to-date to coordinate with local and national industries. The most popular technical degrees vary from decade to decade. Currently, the top ones correspond to the companies that are surviving and thriving.
If you prefer working with your hands and mind, a technical degree may be for you. Match your interests with jobs that are in demand and you have a winner! The following associate degree programs are favorites in the Gulf Coast Region. ITI Technical College offers all five of them for future career success and financial achievements.
Popular Technology Degrees Include Information Technology
The world is becoming more digitized and technologically astute every day. Now is the perfect time to enter this computerized arena. Look at how companies like Amazon and Apple are performing in the marketplace. Information technology (IT) makes it possible for them to

Increase production efficiency
Improve customer service
Sell more products online
Make life better for us
The manufacturing, service, government, and healthcare industries cannot survive without IT technicians. Available jobs include web design, customer support, database management, programming, and many more. You have opportunities to receive good pay raises, transfers, and advancement up the ladder with an IT degree.
Drafting And Design Are Also Popular Technology Degrees
All parts and products begin with an idea, and these ideas must be visually represented on paper or a computer. This first step in their development is an essential function in the work of drafting and design professionals.
Although some manual sketches and drawings are still used today, virtually all parts, products, roads, houses, and buildings are drawn with CAD software. Drafters and designers also use CADD and other software to speed up their technical drawings.
Drafting and Design professionals cannot be replaced with robots or AI. The human equation is still present that opens the doors for this profession to survive for years to come.
"Popular technology degrees prepare students for great entry-level jobs with hands-on training. If you prefer working with your hands and mind, a technical degree may be for you."
Instrument And Control Systems Technology Degree
Manufacturing and processing companies cannot function at peak performance without instrument and control systems technicians. Although robotics and artificial intelligence play a significant role in today's production, technicians work by:
Monitoring the instruments and controls
Repairing or replacing instruments and controls
Troubleshooting production and processing issues
Aiding engineers in developing new ideas
Recording and reporting production activities
Technicians calibrate various types of electronic and hydraulic instruments and control devices used in the industry to maintain processing efficiency. This degree prepares students to work in numerous industries, including aerospace, automotive, manufacturing, oil and gas, pharmaceuticals, and many more.
Automation And Electronic Systems Technology Is A Rewarding Career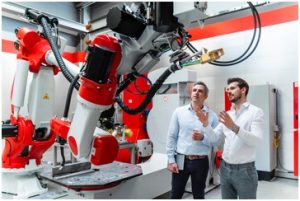 Automation and artificial intelligence are key components in today's manufacturing and processing industries around the world. Technicians use their skills in analog and digital electronics with a focus on microprocessor control to reach peak production. These jobs are some of the best in this industry:
Control engineer technicians design and oversee control systems development
Embedded systems engineer technicians develop software and hardware for systems
Systems integration specialists design and implement complex technical solutions
Network technicians design, implement, and maintain network systems
These and other amazing automation and electronic systems jobs are available for graduates with an associate degree.
Process Technology Is A Vital Component Of Industry Production
Process technicians keep the production and assembly line moving and in top condition. If you are interested in manufacturing facilities and processing plants, this could be the career for you.
Graduates with this degree operate process equipment in entry-level positions in numerous industries. They also use their training to upgrade their current positions at work.
These industries need process technology graduates to operate and improve their processing:
Earn your associate degree and be on your way to a challenging position in these industries.
Acquiring Top-Notch Training In These Popular Technology Degrees
Work in popular technology positions by earning an Associate in Occupations Studies (AOS) Degree in one of the programs we have discussed. ITI Technical College invites you to find out more about our training and educational opportunities.
For more information about graduation rates, the median debt of students who completed the program, and other important information, please visit our website at: https://iticollege.edu/disclosures/