What Is a Drafting and Design Degree?
Any building, product, or process you come across started with an idea, and that idea was developed into a drawing and/or a model. From there, the actual creation process began and ended in a prototype. The prototype was tested, and if positive, was developed into the final product. The drawing and model were created by someone with drafting and design talents.
Those who study drafting by obtaining an Associate Degree will enhance their existing drawing and design talents and knowledge. Graduates will apply their skills in developing:
The ability to represent 3-D objects and buildings on paper and on computers
Interpreting drawing specifications for those items
Estimating amounts of materials needed to construct them
Drawings and designs using computer-aided drafting (CAD & CADD) modeling programs
Plans for dams, machines, airplanes, roads, homes, and businesses
If this description of drafting and design appeals to you, it's time to thoroughly research this career and its benefits. Quora gives you a bit more insight into the difference between drafting and design.
Drafting Is One Part of the Equation
In a typical entry-level job, most graduates start by drawing houses and business buildings. You will design and draw a complete set of working drawings for contractors, carpenters, and other construction workers from ideas, notes, and plans. If this area of drafting doesn't appeal to you, you may start with roads, manufactured products, civil engineering projects, electrical, or electronic products.
Drafting involves accurately representing what you are drawing. There's no guessing at an object's size, shape, or dimensions. You will use the latest tools and training to do the job right to obtain the final approval.
Design Is the Other Part of the Job
Design is more than drawing something from another person's plans, ideas, and notes. It is the real process of envisioning and planning many different types of objects. Design is user-centered because users are the essential parts of the thinking involved in drawing objects. You design when you create solutions, products, or abstract systems to match or exceed a person's or business' problem or need.

'Design' varies from one industry to another and ranges from the simplest to the most complex products. It is a bit of art and a bit of science because it draws on both concepts. You can help someone design a home or product by adding your ideas, feelings, or vision of it. Steve Jobs once said, "Design is not just what it looks like and feels like, design is how it works."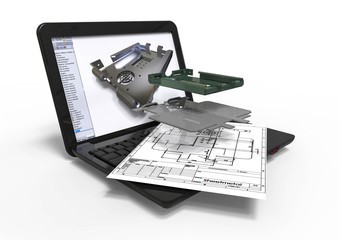 You may need to spend some time researching the objects you are asked to draw. Design is also composed of shapes, colors, dimensions, contrasts, and repetitions. Good drafters and designers have an active imagination that is invaluable to their employers. Check out this additional information about the difference between drafting and design.
"Drafting involves accurately representing what you are drawing. There's no guessing at an object's size, shape, or dimensions. You will use the latest tools and training to do the job right to obtain the final approval."
You Will Also Need These Qualities to Succeed in This Career
Drafting and design not only draws upon a college education, but it also asks of you to:
Be especially attentive to details in drawings and understanding other people's notes
Spend the time necessary to learn to imagine objects in three dimensions
Have the ability to concentrate for long periods to complete projects
Be instilled with an interest in how things are put together in parts and in the whole
Enjoy working with a team and be a good supportive team member
Adopt your employer's goals in relation to your particular job.
Look for a college program where you will learn how to communicate well because it is essential in the drafting and design field. Don't settle for anything less than a fully accredited technical college.
Who You Can Work for with a Degree
Architectural and home construction firms are not the only companies you can work for with a degree in Drafting and Design. The field is much wider than this and you may want to go for:
Working for a manufacturing or processing facility
Specializing in local or state government offices and buildings
Drawing and designing streets, highways, dams, or bridges
A career in electrical, electronic, or mechanical drafting
Being a part of the military sector and its departments
Working offshore or in another country
You may also be interested in the aeronautics and shipbuilding (marine) industries.
Isn't It Time to Begin Your Degree Work?
In selecting a college Drafting and Design Technology Program, you must determine if it has the following:
Regional accreditation through the right agency
If it has a high graduation and job placement rate
Excellence in training and well-qualified faculty with real-world experience
A combination of hands-on training, covers all the fundamentals of drafting, and uses the most current technologies and industry software
Training and education for the industry in the geographic locations where you want to work and live
Once you find the school and program that meets the above characteristics, take the time to request more information and apply for admission. ITI Technical College "makes the grade" when it comes all these educational and skills training requirements. You will enjoy every day in your quest to obtain an Associate in Occupational Studies (AOS) Degree in our Drafting and Design Technology Program.
References and Resources
[line style=normal][/line]