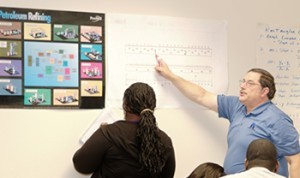 There are many different business administration schools to choose from. It can be tough to decide which one is the best for you. You want to find a school that offers a curriculum that fits your needs and interests. You also want to find a school with good professors and facilities.
If you're ready to take your business career to the next level, contact us today and learn more about our Business Administration School. We look forward to helping you achieve your goals!
Business Administration Program
Whether you're preparing for a career as an Administrative Assistant, Accounting, Payroll, Customer Service or Human Resources, ITI's Office Administration Careers Program offers the training you need.  
An intensive program in Office Administration begins by creating a solid foundation of skills through an introduction and overview of the business office setting. The student will become familiar with general business practices, office etiquette, computers, the most current Microsoft Office software, business computer applications, and equipment. Business and Technical Writing courses will help the student become an effective communicator, both written and oral. The student will be exposed to the application of management principles and practices as they relate to the office professional.
After grasping the fundamentals, the student will learn advanced business concepts through courses in Accounting, Human Resources, Business Law and Ethics, Budgets and Purchasing, and Business Finance.
Two elective course choices that are included allow the student to tailor their studies in a more direct path of their interest. Some of the electives include Web Design, Graphic Design, Computer Networking, Medical Insurance, and Medical Coding courses. Students may choose to apply for an externship to use their skills in a professional work environment instead of the elective courses.
Graduates of the associate degree program will be prepared for employment in a variety of careers in the private and public sectors including banking, sales, insurance, legal and medical offices, as well as in government offices.
Business Administration Training
Business administration training is key to ensuring that any business runs smoothly and efficiently. Training administrative staff for their jobs ensures that the company has people who can perform receptionist duties, bookkeeping, customer service, and other related tasks in an efficient manner. Many employers require a degree or certification in office technology while others prefer on-the-job training with learning through experience.
If you're looking for a comprehensive business education that will prepare you for success in today's competitive workplace, ITI Technical College is the right choice for you. Contact us today to learn more about our program and how we can help you reach your career goals.
For more information about graduation rates, the median debt of students who completed the program, and other important information, please visit our website: https://iticollege.edu/disclosures/
Office Administration (Business Administration Specialization)
Associate in Occupational Studies Program OA80T
Major Occupations for which graduates will be qualified:
APPLY
NOW
HOW MUCH
DOES THIS COST
PROGRAM
DISCLOSURES