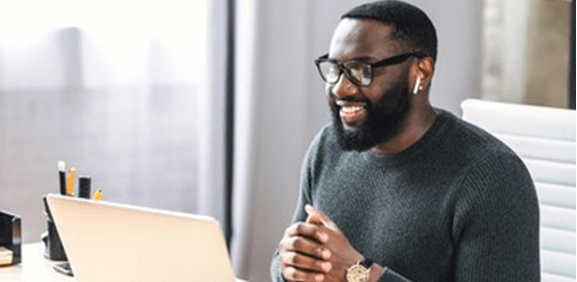 The Information Technology Industry Is Expanding
 Today's underlying base for computer systems and communications is Information Technology.
It is no secret the Information Technology industry is expanding worldwide. The U.S. Bureau of Labor Statistics reports the following news about jobs and careers:
  Jobs are expected

to grow 11 percent from 2019 to 2029

  This rate is much faster than the average for all occupations

  531,200 new jobs are projected for the economy during 2019-2029

Demand stems from cloud computing, collection and storage of big data, and information security

   The median annual income for IT workers was $88,240 in May 2019

   The minimum college degree needed is an Associate Degree in IT
 Typical job specialties include web developers, networking, programming, IT support, research, database administration, software development, and information security. These jobs are growing rapidly, improving our standard of living, and fueling the information economy.
 During the last thirty years, the IT industry has contributed one-third of our country's economic growth. By 1998 the industry employed more than 5 million workers who were earning 85% higher wages than the average U.S. job in other fields.
 The daily work life of an Information Technology employee allows us to compete in global markets and transform the ways we work, live, learn, and play. The future of our information economy depends on the advancement of Information Technology.
Information Technology Employees Lead a Fascinating Work Life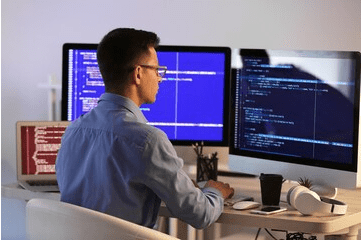 A typical day in the life of an Information Technology employee is a busy one filled with many exciting details. One of the first things they do is check their emails and prioritize them by importance and need. It may be time to check the internet connection and run an antivirus program to make sure security is on track.
Workers refer to their goals and plans for their jobs, department, and overall company. They work on critical issues and clear them up and then switch to non-critical issues and requests. There may be technical problems to address to focus on as well.
 IT Technicians that were recently interviewed revealed they worked on these daily/weekly jobs:
  Provide general desktop, laptop, and printer support for their companies and/or clients

  Those in networking install routers, switches, and cables and monitor networks to ensure smooth and efficient operation

  Check software and operating systems for effective operation

  Check communications in the network and servers
Those who work in information security review security architecture and design diagrams. They run and analyze vulnerability scans and develop mitigation strategies. If you are in management, you train employees in security best practices.
IT Specialists Enjoy Many Work Benefits
 Information Technology specialists enjoy many work benefits and some of them are better than other occupations. For one, their salaries are excellent as referenced above and employee benefits are generally more than adequate. Another benefit is a solid future and job security because IT is here to stay.
 IT support technicians also have the benefit of potentially working in many industries where their work/life balance is good. There is constant change that prevents boring jobs and monotonous work and your creativity will be encouraged. Those who work in developing apps and websites can use their imaginations to generate solutions to work challenges.
"The daily work life of an Information Technology employee allows us to compete in global markets and transform the way we work, live, learn, and play. The future of our information economy depends on the advancement of Information Technology."
Information Technology employees experience joy in helping to create applications and devices that make our lives better, easier, or more enjoyable. For example at work, you can help your co-workers get the most out of the technology they use every day and improve their work lives. Humanitarian technology is another area where you can help the world and feel a strong personal fulfillment.
 Yes, there are more benefits of working in IT such as a chance to travel and be on the cutting edge of new technology. Many technicians work with other departments within their facilities and spend parts of days and weeks in other people's offices. Some get to work in the field in other cities and some in other countries.
 You may work for a company on top of the next big thing in technology evolution. Working with an innovative employer is very rewarding in both income and personal development. You may work with your creativity on the verge of discovering new ways of doing business. Daily work life for Information Technicians is a happy and exciting life.
IT Employees Work in a Wide Range of Industries
One of the paramount benefits of working in IT is the potential of working in a wide range of industries. They include general business, nonprofit organizations, government agencies, and education. These industries rely heavily on well-trained Information Technology employees: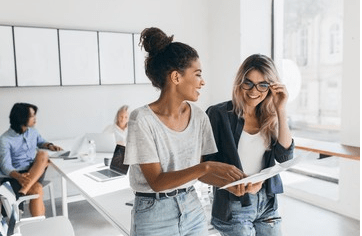 Data Processing and Hosting

  Education and Finance

  Government and Healthcare

  Home Security and Insurance

  Manufacturing and Service Industry

  Telecommunications and Transportation
If you want a work-life filled with interesting and rewarding daily challenges, then Information Technology may be the career for you. Enroll in ITI Technical College and earn an Associate in Occupational Studies (AOS) Degree in Information Technology and launch your career. 
For more information about graduation rates, the median debt of students who completed the program, and other important information, please visit our website at: https://iticollege.edu/disclosures/