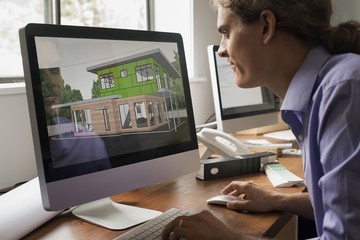 Students who seek an Associate of Occupational Studies (AOS) Degree in Drafting and Design typically like computers, drawing, and art. They combine these interests with computer-aided drafting and design (CADD) software and create amazing products, parts, homes, and office buildings.
Although some manual drafting is used to a limited extent, computer software is used almost exclusively to produce technical drawings. They generate accurate visual guidelines and easily make changes and modifications as needed. CADD also lets you include details like dimensions, materials, and procedures that make drafting more effective and efficient.
If you're interested in this career you should investigate the following:
Industries that use drafting and design employees
Types of available jobs that might interest you
Drafting and designing career
The future of drafting and design
Where to earn a college degree in this field
Industries That Employ Drafters and Designers
Many different industries have drafters and designers on their payrolls that play key roles in development and production. The leading industries that employ them are:
Aeronautical Industry
Architectural Companies
Automotive Industry
Civil Engineering Firms
Construction Industry
Electronic Components
Engineering Firms
Manufacturing Plants
Once you are experienced enough, you may choose to work abroad in other English-speaking countries. If you speak a foreign language, you may find opportunities in additional countries. The income you can earn in drafting and design varies depending on the industry, specific job, and location.
Types of Jobs in Drafting and Design Career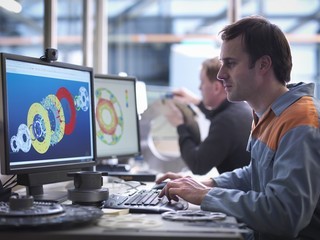 A wide range of positions is available for drafters and designers with the right training. They are not limited to a region but are available in many states and include:
Architectural Drafter: Draws plans for housing and commercial buildings
Automotive Designer: Designs auto and truck bodies and parts
Civil Drafter: Creates plans for bridges, highways, and pipelines
Electronic Drafter: Draws plans for electronic parts such as microchips
Marine Drafters: Make plans for boats, ships, submarines, and other watercraft
Mechanical Drafting: Creates plans for manufacturing power-driven products
Many other jobs include drawing and designing airplanes, manufactured goods, the military, and government projects.
"Many different industries have drafters and designers on their payrolls that play key roles in the development and production of their products."
A Drafting and Design Job Description 
Before embarking on drafting and designing a career, you should have a realistic job preview. This job description has a common core of knowledge and skills needed to work in a job.
Draw and design plans using computer-aided drafting and design (CADD) software
Interpret sketches, formal drawings, and specifications created by other professionals
Design parts, products, or structures with standardized drawing techniques
Add details and specifics like dimensions, materials, and procedures to plans
Work closely with engineers, architects, managers, and clients
Additional drafting and design job duties vary with specific jobs, companies, and industries.
The Future of Drafting and Design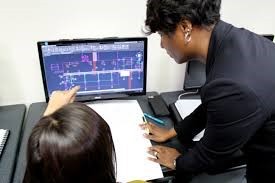 The world would not be the same without CADD for innovative designs of buildings, products, and manufactured goods. Desktop computers have replaced bulky workstations where 3D modeling is the gold standard in design software.
CADD will be used more for Google Maps and for finite element analysis for engineering applications such as testing the integrity of residential and commercial buildings. The future for this type of software looks strong because enterprising researchers are working diligently to improve it.
CADD's versatility is increasing with the use of artificial intelligence in 3D modeling software.
The programs have the capability to anticipate our actions
It can improve any 3D modeling experience
CADD will allow users to repair design errors faster
It will even allow users to anticipate design errors efficiently
Learn more about the future of CADD.
Earn a Degree and Go to Work
If you would like to kick start drafting and design career, don't stand still and let the world pass you by while other people get better entry-level jobs. Kickstart your career with an Associate of Occupational Studies (AOS) Degree in Drafting and Design Technology.
ITI Technical College in Baton Rouge is an ideal school to gain the knowledge and training you need for an exciting career. Admissions Representatives are standing by to provide you with the details of enrolling in this program
For more information about graduation rates, the median debt of students who completed the program, and other important information, please visit our website at: https://iticollege.edu/disclosures/