Most of us live in a stressful world with various challenges facing us every day and maintaining good study habits can be difficult. For those attending technical or community colleges or universities, one of them is staying focused on our studies and homework. We all wish someone could open our heads and pour information and data into them so we could understand and retain it.
There are ways to combat getting distracted from studying or just plain neglecting this critical part of our education. Students can learn to focus as well as become more effective in increasing and retaining necessary knowledge and skills, including:
Select a consistent time and place to study
Set goals and make plans
Take regular breaks – no all-nighters
Exercise and improve your health
Do not get distracted by social media
See a counselor if necessary
Each of these recommendations is important and together they are awesome!
Select a Consistent Time and Place to Study
Athletes at all levels practice regularly at their sports and you can do the same with your study habits. Select a consistent time and place to study and your mind will learn to adapt to it. After a few weeks, you have trained yourself to think "now I will concentrate and learn more."
Our minds can be trained like our muscles to focus and respond to the job at hand. Before long, we will learn more in less time because we are concentrating and becoming more efficient. There may be distractions at times, but we learn to keep them at a minimum.
Good Study Habits: Set Goals and Make Plans
Set goals and make plans to achieve them during your study sessions. Goals are stated in quantifiable terms with times for completing them. As an example, you may decide to review all your notes from two classes in one session. Another might be watching a video during tomorrow's session that supplements chapter 3.
Setting goals and making plans to achieve them is like making a psychological promise to yourself. When you reach one you will know it and can mark it off the list.
"There are ways to combat getting distracted from studying or just plain neglecting this critical part of our education."
Good Study Habits: Take Regular Breaks – No All-Nighters
Studying too long in one session can be like working too long overtime at a job. You can become mentally, physically, and emotionally tired and grow counter-productive at the end. The solution is taking regular breaks to help form good study habits.
The breaks maybe every 45 or 60 minutes and last only a few minutes. Get up, move around, and get something cool to drink. Using all-night study sessions is the extreme opposite of taking regular breaks. Plan ahead and divide your studying into small sessions for the best results.
Exercise and Improve Your Health
We are talking about exercising our brains, and we should also exercise our bodies regularly as well. Exercising and improving your health can help you become more mentally alert during class, lab, tutoring, and study times.
Avoid a lot of sugary foods and alcohol that can interfere with our mental faculties. Eat fruits, vegetables, whole grains, and lean meats, and drink plenty of water. Find an exercise routine you can handle and stick to it.
Do Not Get Distracted by Social Media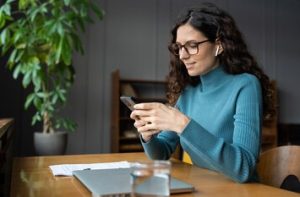 It is so easy to be distracted by friends, family, and others on social media. When that phone buzzes, it is very tempting to answer and browse. Here are a few tips to ease this distraction:
Download a browser extension that blocks your most distracting websites for a set amount of time.
Install an app that lets you filter modes such as Work or Friends so you only have access to the things you need.
Filter gaming and anything else that distracts you from studying.
Set aside sometime before or after studying for social media and web surfing.
Keep practicing all the recommendations mentioned thus far, and go see a counselor if you still need help focusing.
See a Counselor If Necessary for Help with Good Study Habits
Some of us are not self-disciplined enough to become efficient studier on our own. If you have difficulty practicing the good study habits in this blog, you may need to see a school or study counselor. Find a counselor that will not charge a fee, and you can add new study tools to your bag.
For more information about graduation rates, the median debt of students who completed the program, and other important information, please visit our website at: https://iticollege.edu/disclosures/