Construction management is one of the most critical roles in the construction industry. Effective management of people, resources, and schedules, is key to the timely delivery of any construction project. If you're currently involved in construction but want to move to a managerial role, or even if you're interested in construction management as the first step on your career path, you will need an effective construction project management program to give you the skills and qualifications that will make you competitive in the job market.
ITI Technical College in Louisiana provides industry focused training, available to high school graduates and professionals who are looking to make a change in their career.
Building Blocks for Success in Construction Project Management
Project management in construction shares some fundamental processes with other industries, but also requires key skills that are industry specific. Our construction management school in Baton Rouge will cover a number of effective project management skills, as well as those that are unique to construction projects of any scale.
People management skills will be critical to ensure that projects are delivered on time, safely, and on budget. Training will help you to deal with different personality types, delegate work, track performance, and motivate your workforce. A construction project manager is in a leadership position, so you'll need to be ready to face the challenges of working with professionals who have different working styles, and who come from different backgrounds.
The management of equipment and money will also be essential to your success, so scheduling and planning will play a significant role once you're employed in the field. Construction manager certification will allow you to understand key logistical and financial concepts which can then be applied to construction projects once you are on the job. If you've come from another area of the construction industry, then you will have a definite advantage when it comes to the tools, machinery, and resources that are needed to complete a project. Training will help you to utilize all available resources in the most efficient way, allowing you to deliver the kind of results that will further your career.
When working as a construction project manager in the United States, legislation will be important to your operation. Whether it's the health and safety regulations that need to be adhered to on a construction site, or specific legislation relating to the design, placement, and materials used in a project, training at ITI Technical College will provide you with a sound understand of local and state law, allowing you to protect the interests of your future employers, team members, and the construction project as a whole.
Are You Ready to Make the Hard Decisions?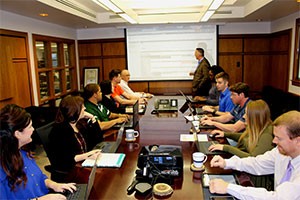 Setting goals and performance targets will allow you to track and react to any setbacks throughout the construction process. In your career there will be times when you have to make hard decisions regarding employees, budgets, tool selection, and you will even need to sign off on design proposals and changes. Quick and effective decision making is a must, and to make good decisions you will need to be able to analyze a project holistically to see how every small change can make a difference.
Training at our construction management school in Baton Rouge will provide you with the critical analysis and decision making skills that are required of a successful project manager. If you've worked as a laborer or other construction professional, your view of a project would have come from a relatively linear perspective. Training will allow you to expand your thinking so that you can have full oversight of your operation, leading to well informed decisions that benefit any project.
When you learn how to manage construction projects you will be able to find employment in an industry that you love, while enjoying high compensation and significant career progression opportunities. Take the first step by contacting us today, and discuss enrollment in our upcoming program.
For more information about graduation rates, the median debt of students who completed the program, and other important information, please visit our website: https://iticollege.edu/disclosures/