If you're planning to study at an HVAC Repair School, then you need to be sure that you choose the right one that can provide you with a comprehensive education. The use of HVAC technology in America is widespread, and there are new and old systems installed in buildings of all ages. Because your future job could take you to any work environment, old or new, you have to be sure that the school you choose gives you a comprehensive education that will leave no gaps in your knowledge.
At ITI Technical College, comprehensive education is exactly what we provide.
Study for an Associate's in Occupational Studies (AOS) Degree at our AC Repair School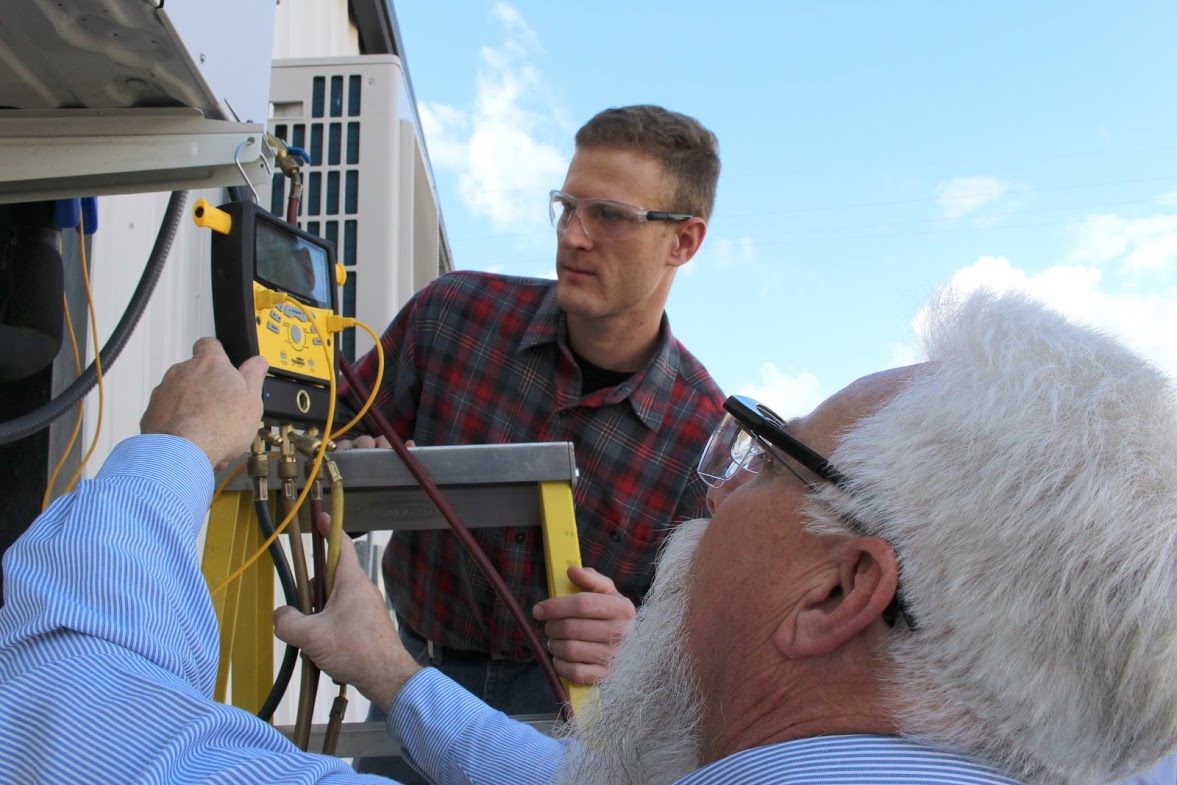 It's possible to get started in the air conditioning and refrigeration industry as an apprentice, but this can be a difficult path to follow. As an apprentice, you will earn less money, and it may take you longer to become qualified. You'll need to spend time outside of your training to study theory and take exams, and depending on where you get your apprenticeship, the quality of learning may not be high. Sure, there are plenty of successful and highly skilled HVAC technicians who started as apprentices, but there are even more who struggled for a long time to develop their skills and knowledge.
By taking structured AC repair school training at ITI Technical College, you can ensure that you have a solid foundation in theory, along with the practical experience that is needed to make it in the industry. Unlike an apprentice, you'll be able to start working at an HVAC company with your qualification, and you'll have a better chance of making a competitive paycheck. No matter which way you look at it, starting with formal training is the best way to go.
What we Cover at Heating and Ventilation Training
Training at ITI covers all aspects of refrigeration, air conditioning, and heating. The science of refrigeration is used in any heating or cooling device, and you'll understand everything at a technical level, allowing you to identify individual components in a system and know what they do. Having a solid background, in theory, will mean that you can troubleshoot faults even when you are working on systems that are unfamiliar to you. In short, this kind of technical background will make you a more versatile HVAC technician.
You'll also receive comprehensive training in electrical theory, allowing you to work safely on high-amperage devices. This aspect of your training will be hugely important for troubleshooting, and for ensuring that installations are safe and in adherence with relevant codes.
AC repair school is not just about theory, and your heating and ventilation training will also provide you with practical experience on units and systems that are similar to what you will find in the field. You'll be given the opportunity to apply what you've learned in the classroom, with workshops where you perform troubleshooting and repairs on live AC and refrigeration units. You'll have expert support throughout the degree course, from professionals who have had extensive experience in the industry.
Heating and ventilation training at ITI leaves no stone unturned so that nothing will surprise you once you graduate and enter the workforce. Whether you're working on a simple window air conditioner in an old building or a complex central air system, you'll have the knowledge and skills that are needed to perform the best job.
Call Today to Begin the Enrolment Process
We are currently taking expressions of interest for our AC repair school and would love to help you through the process so that you can be ready for the next term. Contact us today for further program details and to take the first step towards what could be a long and rewarding career.
For more information about graduation rates, the median debt of students who completed the program, and other important information, please visit our website: https://iticollege.edu/disclosures/