Air conditioners are the center point of any house even if the home owner doesn't seem to realize it. The interesting thing about them is that while they provide a valuable service, they are often forgotten and cleaning tends to get pushed by the wayside. There are many factors in a home that can contribute to an air conditioning disaster, most of which you will learn about during the course of your HVAC service training. We're going to go over a few of them right now.
HVAC Service Training Basics – Filters and More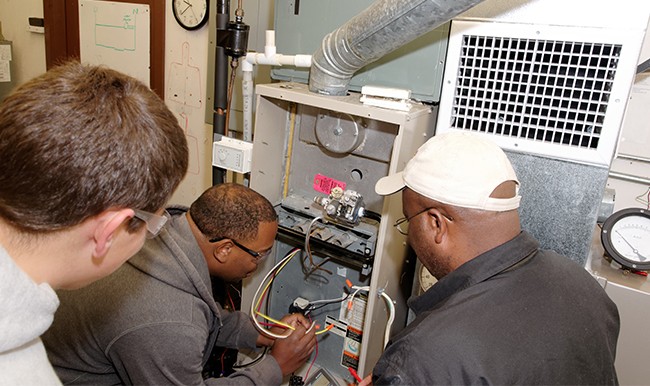 As the HVAC field continues to grow (click here to see reference) so to do the ways an air conditioner can become clogged.. Refer to the list below for more information:
Dust and Dirt – Every house is bound to have dirt and dust, everywhere. Most of this can be alleviated with proper care of the home which includes vacuuming and carpet scrubbing but as you work extensively in the field there is a good chance you're going to run across plenty of homeowners that forget this very basic tenant of care, and as a result end up with dirty air conditioner filters.
Pet Dander – The situation that we mentioned above is amplified significantly with the introduction of pets. Cats, dogs, and other furry friends tend to release both hair and dander which do an outstanding job of clogging the vents and even the filters.
Outdoor Debris – This applies to the condenser unit more so than the indoor unit as it sits outdoors, generally alongside the house. The condenser will definitely lend to the downfall of the entire unit if not properly taken care of, and you can be rest assured that these problems multiply in the winter.
These are three of the biggest problems that tend to manifest in any home that utilizes an air conditioner, and by themselves they don't pose that much of a threat. The threat comes into play when owners fail to keep up with the routine maintenance that would lend to the prevention of even bigger issues and the extent of your job as an HVAC professional in the field is going to depend heavily upon how well the maintenance in question was actually performed. We could speculate as to what you're going to find when you get to the site, but as you can imagine, we really don't have to.
Potential Consequences of Dirty Air Conditioners

Dirty air conditioners most definitely have their fair share of consequences, the first being inefficiency. The air conditioning unit will become overworked, something you will learn more about at AC service school. The bottom line here is that dirty air conditioners bring service calls, and that's precisely what you're going to specialize in. ITI Technical College is not only a great place to obtain the necessary book knowledge, it is perfect for hands on experience and the training you will need to make a difference in the real world.
HVAC is an amazing field and those who choose to enter it will have career opportunities to look forward to. Not only is the field growing, but you will also find that it gives you a skill that you can use for the rest of your life whether you are working for others, or for yourself. During your first few years outside of school you will most likely be working as an apprentice below a more experienced individual, but soon enough you will be out on your own, ready to face the world and become the technician you've always wanted to be.
There are a lot of industries that are going to need your expertise – expertise that you can expect to gain by learning at ITI Technical College. Ready to learn more? Fill at the form and get yourself set on the road to HVAC learning. In addition, financial aid may be available to those who qualify. This is one action that you're not going to be regretting any time soon, and a career you will definitely learn to love.
For more information about graduation rates, the median debt of students who completed the program, and other important information, please visit our website: https://iticollege.edu/disclosures/