Do you have a future in instrumentation technology training? There is a good chance that you do, and when opt to further your knowledge with an education, you will quickly gain the skills that you need to be effective in the field. What exactly is instrumentation technology? What does it mean to any industry? The interesting thing about industrial maintenance training is that it does not apply to just one industry. You will find jobs in a wide range of areas, most of which will be produced
What Will you Do as an Industrial Maintenance Technician?
Working as an industrial maintenance technician, you will generally install and maintain the devices that are used to facilitate industrial processes. You will work on several devices that control temperature, pressure, flow, level, and more. In addition to that, you will find yourself working with several different technologies including hydraulics, electronics, and even medical equipment depending on the industry that you find yourself in.
The training will help you to quickly launch an impressive career that could take place in one of many different areas. You could work as an instrument and electrical tech, a process tech, a contract tech, and much more. To make it even better, the outlook for the job is outstanding over the next few years, assuming you are well trained. Many individuals are nearing retirement which means there will be job openings for skilled operators at processing plants, power distribution plants, shipyards, and even NASA. To put it as simply as possible, you will find some amazing career opportunities and there is plenty of room for advancement.

Fun Career Opportunities in Industrial Maintenance
Once you finish industrial maintenance training, you will be able to confidently enter the workforce prepared to take on one of many different available positions. You might be surprised however to find out just how many career opportunities there are for industrial maintenance. This is a field that manages to blend into every single industry. For example, you could work in a nuclear power plant, but at the tamer end of the spectrum, you could also work in pulp and paper production. You will even find that industrial maintenance extends into the amusement park industry – after all, who would keep the rides running without a good industrial maintenance technician on hand?
Join the Field, Change the World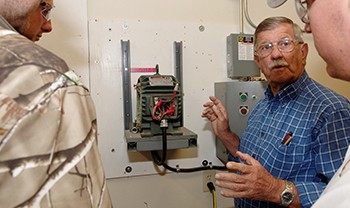 While it might not seem like the most exciting career from the outside, it is actually one of the more interesting careers you could find yourself in. You will work to troubleshoot problems, solve those problems, and most importantly, you will work as a member of a team. Something important to keep in mind is that this is a constantly changing field and as such you will require constant on-the-job training. As a matter of fact, there are some employers that will call for you to have at least twelve months of on-the-job training before you can truly be "let loose" in the field.
If you feel that this type of career is for you, then now would be a great time for you to consider getting the education that you need. ITI Technical College offers a high-quality learning environment that will not only ensure you get the classroom education that you need to excel in the field, but also the hands-on education that will prepare you for the future. If you are ready to give up the 9-5 workday, then it is time for you to call us and see what we have to offer you. We not only have outstanding educational opportunities, but financial aid is also available to those who qualify. ITI Technical College can help you improve your quality of life – contact us today and start your new career journey tomorrow!
Disclosure:
For more information about graduation rates, the median debt of students who completed the program, and other important information, please visit our website: https://iticollege.edu/disclosures/