The functions of a process technician are broad. Simply put, they are responsible for improving and monitoring engineering and manufacturing processes. A wide range of industries employs them, including water treatment, power generation, and manufacturing.
In fact, any industry engaged in turning raw materials into resources employs these professionals, although the specific roles differ by industry. If you enjoy electrical and mechanical operations and are keen to know about the industrial process, ITI Technical College's Associate of Occupational Studies degree in Process Technology is exactly what you need!
Here are a few career opportunities in the process technology industry:
Manufacturing Process Technician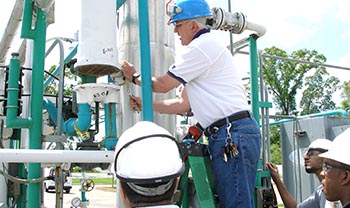 Almost every company that processes raw materials into products hires process technicians. These include gas and oil refineries as well as factories that manufacture products ranging from beverages and food to building materials and electronics.
In this profession, you will monitor all the manufacturing equipment and processes. Furthermore, you will frequently design improvements, conduct quality assurance testing, and ensure adherence to safety procedures takes place in the workplace.
Most companies expect that persons who are interested in this career have at least an associate's degree with an emphasis on science and math courses. Fortunately, our ITI Technical College's Associate of Occupational Studies degree in Process Technology offers the courses that will help you fulfill your dream career.
Our programs typically include classroom training as well as hands-on experience with the equipment, both of which are major requirements for numerous jobs.
Power Plant Technician
Power-generating plants, including nuclear reactors, are a major source of process technician jobs. Technicians and operators are responsible for troubleshooting and monitoring the instrumentation that directs the power generation.
In this position, you will work with computerized control boards, examining the plant's equipment and sampling the processes to ensure efficient and safe power production. Besides thorough on-site training and a high school diploma, a license is necessary for particular positions.
For instance, various states need non-nuclear plant operators to acquire licenses as engineers or firefighters. Bear in mind that some positions in the field of process technology need outstanding mathematical skills while others simply look for persons who are eager to learn. According to the Bureau of Labor Statistics, positions in this field earn incomes between $44,000 and $88,000 annually.
Chemical Technician
If you secure employment as a chemical technician, you will use special techniques and instruments to help chemical engineers and chemists develop, test, and research chemical processes. Most of these professionals work on teams and are typically under the guidance of chemical engineers or chemists who will direct your work and evaluate your results.
In this role, you will usually work in laboratories to conduct experiments or in manufacturing facilities where you'll examine production processes. Beware that the work environment for this position poses health hazards when handling plant equipment and certain chemicals.
However, there is little risk if you follow the proper procedures. In terms of work schedule, you will most likely work full time though you may occasionally need to work extra hours to meet deadlines or troubleshoot issues with manufacturing processes.
Most employers require an associate's degree or 2 years of postsecondary education. Once you enroll in one of ITI Technical College's programs, you will be on your way to earning the required 2-year degree and leading a rewarding career!
We would also recommend coursework in computer science and statistics because technicians do data modeling and analysis routinely. Remember, laboratory time is one of the most significant elements of a degree program because it offers hands-on practice in performing experiments and using different instruments and techniques appropriately.
Fortunately, ITI Technical College exposes students to extensive hands-on training in preparation for their future careers. According to the Bureau of Labor Statistics, the median annual income for Chemical Technicians reached $45,840 in 2016.
Waste and Wastewater Technician
As a wastewater treatment technician, you will ensure the machines run smoothly in treatment facilities. If you are seeking a career in this field, an associate degree isn't always a prerequisite.
However, you will be at a significant advantage if you attend ITI Technical College and earn an Associate of Occupational Studies degree in Process Technology because employers favor candidates who are educated and trained in the field.
Are you looking for an institution that will equip and prepare you for a fulfilling career in Process Technology? You have come to the right place.
Disclosure:
For more information about graduation rates, the median debt of students who completed the program, and other important information, please visit our website: https://iticollege.edu/disclosures/