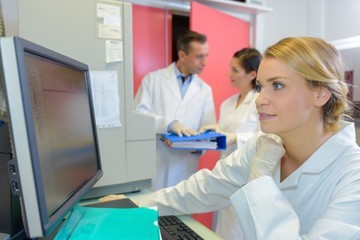 The reason medical coding and billing professionals are in demand is that healthcare became our nation's largest employer in 2018. Three factors drive this growth:
Our general population is aging and needs more medical services.
There is unstoppable growth in medical spending.
Our population is growing with new childbirths and immigration.
The healthcare industry has surpassed manufacturing and retail for the first time. Doctors' offices, clinics, hospitals, and nursing homes have set new records for number of patients. It's obvious that if we need more healthcare in the U.S. we need more healthcare workers.
The expanded growth of new healthcare jobs is found in administrative positions rather than physicians. They include management, medical assistants, receptionists, office clerks, coding, and billing positions. This growth is not restricted to only larger cities like New York, Chicago, or Los Angeles. Rural clinics, hospitals, and doctors' offices are seeing more patients than ever before.
Medical facilities are developing new initiatives to improve patient services and this calls for hiring quality healthcare professionals. It seems the opportunities are endless in this industry including those in medical coding and billing.
Medical Coding's Role in Clinics, Hospitals, and Doctors' Offices
When patients are examined by nurses and doctors, complete notes are recorded on the office computers. This information is then stored for current and future use to ensure the delivery of the best healthcare services possible. Information discovered in interviews and testing includes:
Patient and patient family medical history
Vital signs like blood pressure and oxygen levels
Current medications and new prescriptions
Testing, diagnoses, follow-ups, medical procedures
Referrals to specialists for further treatments
Medical summaries and reports
All this information is recorded and then translated into an alphanumeric coding system by professionals in
the medical coding department. This coding language is universally accepted by all medical professionals in the U.S. All reports are documented and then stored in this language in the computer databases.
Medical Coders are responsible for accurate and timely recording of all patient information presented to them. They use this data for creating reports for use in the Medical Billing department where they are transformed into billing statements. The accuracy of all data is crucial to the current and future health of the facility's patients. Medical Coders assist in the well-being of these patients and experience joy in serving others.
"The future is in your hands and the time to get started on   a career that is in demand is now."
Medical Billing Follows Medical Coding in Practice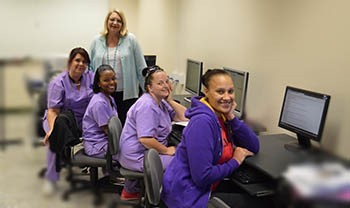 As the need for medical coders grows, so does the need for Medical Billing professionals. Those who work in these positions rely on current and accurate data received from the coders to ensure accurate billing claims. Claims sent to insurance companies, Medicare, and Medicaid must be accurate and complete to receive payment for medical services rendered.
In preparing billing statements, billers use the coding language that insurance companies understand. If some information is incorrect or lacking in a statement, the company won't pay the full claim or will put it on hold until the statement is corrected. The billing department must keep track of all transactions including follow-ups to receive full payment as outlined in their contracts.
Some claims are not fully paid by insurance companies, Medicare, and Medicaid and the balances must be paid by the patients themselves. The billing department then sends patient statements to arrange for payment in full or in monthly installments.
In the cases where patients won't pay their balances, billers must refer them to outside collection agencies to obtain payment. The billing and collection cycle is illustrated in this diagram beginning with medical records and reading counter-clockwise.
How to Land a Medical Coding and Billing Job
The path to a successful career in Medical Coding and Billing begins with the right training. If your employment aspirations lie in this job in healthcare, it's imperative to attend a high-quality program at an accredited college.
This can be achieved at ITI Technical College Certificate Program in Medical Coding in Baton Rouge. Here you will find dedicated faculty, administration, and staff who take a personal interest in each student's success.
You will graduate with the skills and knowledge to obtain an entry-level job in Medical Coding and Medical Billing. The future is in your hands and the time to get started on a career that is in demand is now.
For more information about graduation rates, the median debt of students who completed the program, and other important information, please visit our website at: https://iticollege.edu/disclosures/