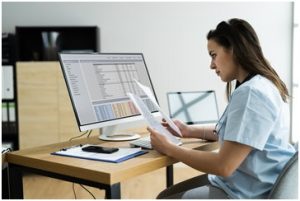 The Medical Coding (Certificate) Program at ITI Technical College provides students with an intense concentration in the medical coding and billing atmosphere by creating a solid foundation of skills including professionalism, medical law, and ethics, as well as medical terminology. As one of the fastest-growing occupations in the medical industry, this program equips the students with the comprehensive knowledge needed to be successful in the medical field.
Students will experience a hands-on approach to insurance billing, coding, and CPT coding procedures. Upon completion of our Medical Coding (Certificate) Program, students will have acquired the level of education and training needed to become part of the health industry.
Our experienced instructors will guide you through every step of your educational journey–from initial registration to certification and beyond. With our world-class curriculum and helpful staff, we'll make sure you have everything you need throughout your learning experience.
Medical Coding Job Description
A Medical Coder is responsible for properly classifying medical documents and assigning codes to identify diagnoses, procedures, and supplies. This role requires a thorough understanding of medical terminologies as well as principles of coding by government regulations and standards.
Medical Coders must have excellent attention to detail and an ability to interpret complex medical documents accurately. They also need strong organizational skills to manage large volumes of data effectively. The ideal candidate should have good computer skills and the ability to use industry-standard coding software.
The primary duties of a Medical Coder include reviewing patient records and examining the documentation provided by healthcare providers, such as physicians, nurses, and specialists; entering codes into patient accounts based on diagnoses, treatments and services rendered; and ensuring code accuracy and completeness by verifying information. They must also maintain accurate coding databases, adhere to legal and regulatory requirements, and ensure compliance with established guidelines. Other duties may include troubleshooting coding issues and providing guidance to novice medical coders.
Successful Medical Coders need strong communication skills to build good relationships with physicians, other healthcare providers, patients, and insurance companies. They must be able to effectively explain coding rules, policies, and procedures in a way that is easily understood. Additionally, they should have the ability to work independently as well as collaboratively within an interdisciplinary team environment.
Medical Coding Explained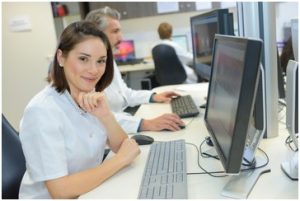 Medical coding is the process of translating medical reports into specific codes. Codes are used to describe diagnoses and procedures, as well as other related data associated with a particular patient's care. These codes are then entered into a computer system by trained coders to create an accurate representation of a patient's health information. Medical coding is a vital part of healthcare delivery as it helps ensure that patients receive timely, appropriate, and quality care.
Additionally, medical coding can improve reimbursement accuracy for healthcare providers and help reduce paperwork errors. For example, if a doctor has prescribed medication for a patient but does not enter the code into the system correctly, it can delay or prevent the patient from receiving their needed medication. By entering accurate codes in the system quickly, coders help to ensure that the appropriate treatments are provided.
Medical coding is an important part of ensuring that healthcare providers receive accurate reimbursements and that patients receive appropriate care. By using codes, medical professionals can quickly identify diagnoses, procedures, and other data related to a patient's treatment. This helps improve accuracy in billing practices and ensures timely delivery of care.
Additionally, using codes helps reduce paperwork errors and keeps records organized, making it easier for healthcare providers to access information if needed. It is a complex process that requires knowledge of medical terminology, anatomy, physiology, and pharmacology as well as mastery of coding conventions and guidelines.
Medical Coding (Certificate) Program At ITI Technical College
If you're looking for an exciting and rewarding career in medical coding, then enroll at ITI Technical College. Our Medical Coding (Certificate) Program provides students with a comprehensive education that covers all aspects of medical coding, from terminology to billing practices.
We focus on giving our students the skills they need to be successful in this field and ensure that they have access to the latest technologies and resources needed for success. With our experienced instructors and real-world experience, there's no better way to become a certified medical coder than with ITI Technical College. Enroll today and join us on the path to professional success!
For more information about graduation rates, the median debt of students who completed the program, and other important information, please visit our website: https://www.iticollege.edu/disclosures
Medical Coding (Certificate) Program
Certificate Program MC10T
Major Occupations for which graduates will be qualified:
Classification of Instructional Programs - Occupational Title
default
Classification of Instructional Programs - Occupational Title
51.0713 – Medical Insurance Coding Specialist/Coder
default
APPLY
NOW
PROGRAM
DISCLOSURES