Construction management is the process of overseeing a construction project from its inception to completion. It involves the production of blueprints, coordinating with all parties involved in building and engineering, and making sure that everything falls in line according to plan. Continue reading to learn more about the admission requirements for a construction management program as well as what it takes to be successful in such a course.
Construction Management Program
The Construction Management program offers skill training for employment in entry-level positions in the construction management industry.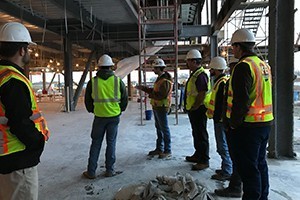 Construction Management Associate of Occupational Studies (AOS) Training & Certification Studies include courses in success skills and practical mathematics including general math and algebra. Construction mathematics will use industry applications, building on geometry and trigonometry.
Students start construction management courses with intro to construction management, materials and methods, mechanical & electrical systems, and civil construction materials. Then, students will begin a construction project control sequence that includes three (3) courses in plan reading & quantity takeoff in three distinct disciplines (architectural drawings, civil drawings & piping & instrumentation drawings), building construction cost estimating, industrial cost estimating, and project planning & scheduling. Students will learn to use an array of management techniques in a course dedicated to project management, as well as courses in construction contract & ethics and safety. Technical writing covers the need for effective technical communication in the workplace. Students will take a 3D/BIM course using industry standard visualization software. In addition, the students will have a wide variety of elective courses that will further enhance their knowledge base.
Students will conclude the program with a capstone class focused on project controls with management presentations.
Teaching methods include demonstrations, solving problems using drawings, and lectures in a laboratory environment. Studies are individualized and progress is monitored with assignments, quizzes and laboratory evaluations.
Admission requirements for Construction Management degrees
If you are determined and have the heart for it, then there is nothing that can stop you from learning anything. We all want to be something or do something with our lives. In order to achieve this, we need to work hard for our dreams.
Construction of a building begins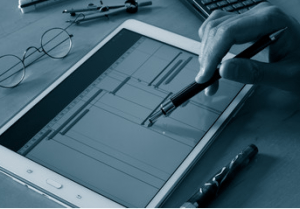 well during its inception stage when an architect and engineer create blueprints for every aspect of the project. Currently, there has been an increase in demand for those professionals working in construction due to significant growth in residential homes and skyscrapers created by various companies as they established their operations.
There are three main educational paths to becoming a construction manager and these include the following:
– Bachelor's degree in construction management or related field; an associate of arts degree with completion of one year of college-level coursework; or completion of two years in a technical school while completing field work in construction.
– Significantly above average math skills, especially geometry, trigonometry and calculus, spatial relations and physics may be required as many construction courses require problem solving by use of mathematics. In some cases you may need a master's degree for entry into the industry.
Personal requirements: When applying to  a construction management degree program, you will be faced with a great deal of competition for admission. Try to get good grades in the classroom and discuss any extracurricular activities that may set you apart from other applicants.
– Demonstrated leadership Qualities
– Ability to work well under pressure AND independently
Admission requirements change constantly so make sure to check the ITI Technical College website.
All you need are those construction management admissions requirements and a little bit of luck to get that construction management degree
Best Construction Management jobs
Construction Management is a growing field that provides many different careers for those interested in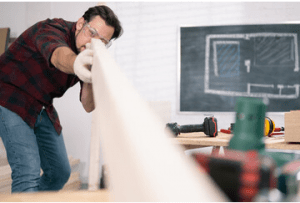 creating and maintaining buildings, roads, bridges and other construction materials. Graduates from these programs are able to accomplish any number of tasks within their chosen career fields. Some of these are considered as Office-Based Professionals where graduates will take on projects such as estimating, scheduling and supervising projects using project management software like Microsoft Project . Also, some Construction Managers have more technical leaning towards the actual building structures themselves such as civil engineers , architectural engineers or landscape architects . The point being is that there are numerous options for those willing to work in the construction industry.
Becoming a Construction Manager
A construction management professional is someone who has graduated from an accredited degree program at the bachelor's level or higher. This can lead to great opportunities for career advancement including promotions into upper-level positions depending on the organization and its goals. In some organizations, however, it may not be necessary to hold a formal degree; although, this does not mean that one should jump into a job without proper knowledge of what he or she needs to become qualified for the tasks ahead.
For more information about graduation rates, the median debt of students who completed the program, and other important information, please visit our website: https://www.iticollege.edu/disclosures.htm
Construction Management –
Associate in Occupational Studies Degree Program CM90T
Major Occupations for which graduates will be qualified:
Classification of Instructional Programs - Occupational Title
Standard Occupational Classification /O*NET Code
Classification of Instructional Programs - Occupational Title
CIP Code
52.2001 Construction Management
Standard Occupational Classification /O*NET Code
APPLY
NOW
PROGRAM
DISCLOSURES