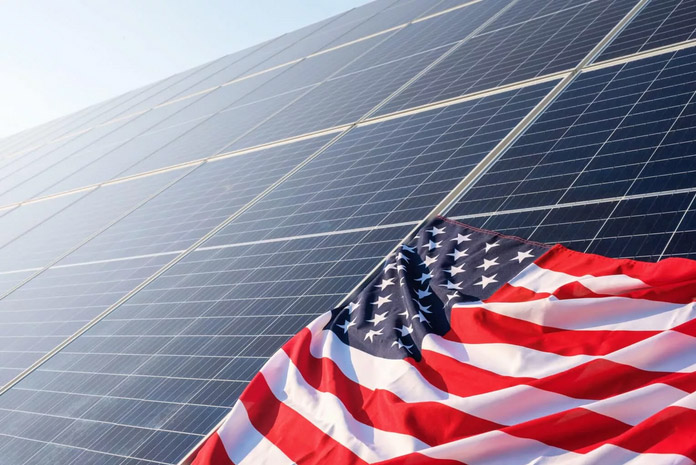 The solar industry offers job opportunities for candidates with diverse skill sets and experiences.  The jobs that may come to mind first are technical in nature (installers and electricians are the backbones of the workforce), but the industry is supported by a wide range of job functions including communications, project management, engineering and more. These job functions differ in nature but are tied together by a few common threads: most require skills in logistics, punctuality, leadership and working effectively as a team — all things that veterans come well-equipped with.
Although veterans have the ability to do a number of high-value jobs, transitioning back to civilian life can be challenging after returning home from active service. The skills and training that veterans undergo in service don't translate easily onto a resume, and as a result, some struggle to find gainful employment.
However, the solar industry offers a natural fit for veterans entering the workforce. In this guide, we'll discuss the challenges veterans face, as well the programs and businesses that offer support.
The Solar Industry and U.S. Veterans
The solar industry already harbors a large number of veterans; the 2020 National Jobs Census showed that the industry employs over 20,000 vets (which is 9% of all solar workers in the nation). This is more than the average national veteran employment rate of 6.6%.

1

This coincides with a period of huge potential growth for the budding solar industry, which is poised to
reach 400,000 jobs by 2030. Veterans have the skills to make use of the opportunity clean energy brings. In addition to employment, working toward a cleaner future can offer great personal satisfaction for veterans accustomed to aligning with a greater purpose. Veterans also have a good understanding of the importance of energy for our national security. But there are still challenges.
Challenges U.S. Veterans Face
Studies show that a lack of preparation for finding civilian employment when leaving the military is a large contributor to veteran unemployment.

2
This lack of preparation included things like unrealistic expectations for the kinds of job opportunities veterans qualify for; unrealistic expectations for salaries; veterans having a perception of having to "start over" as a civilian; and difficulty understanding how military experience translates to civilian employment.
Of the 20,000+ veterans in the solar workforce, the majority work in installation, manufacturing, or sales and distribution. Since many veterans joined the military straight out of high school, many lack the academic credentials for positions above entry-level and have to work their way up.
But veterans come equipped with highly valuable skills and intangibles that may not be reflected in a job application. These include:
Technical skills
Leadership skills
Ability to work with a team
Self-motivation
Discipline
Efficiency
Solar Programs for Veterans
There are a number of programs that advance the career opportunities for transitioning military service members and veterans in the growing solar industry.
Solar Ready Vets
Solar Ready Vets, led by the Interstate Renewable Energy Council (IREC), is a program that advances a nationwide pipeline of veterans into all levels of the solar workforce through industry partnerships, fellowships, training programs and workforce development.

3

Solar Opportunities and Readiness
The
Solar Opportunities and Readiness (SOAR) initiative connects veterans with solar training, credentialing, professional development and employment opportunities. Its goals include establishing apprenticeships, expanding the eligibility of solar training for GI Bill benefits, and defining expedited pathways to solar certifications based on military experience and qualifications.
Solar Energy International
Solar Energy International (SEI) offers Veterans Educational Funding and outreach programs for veterans and active-duty military personnel. It also offers educational opportunities and benefits to military members, their families, and veterans who have honorably served.
Check out
SEI's website to learn more about eligibility and the application process.
Veteran-Owned Solar Businesses
If you're interested in solar, there are also avenues to support veterans through your business. There are several reputable veteran-owned businesses that
install solar panel systems throughout the nation. By supporting veteran-owned businesses, you can give back to our service men and women.
Veteran Owned Solar
Veteran Owned Solar offers solar installations, development and project management services throughout Texas and Arizona. It specializes in oversight and management of large-scale projects, but it is highly capable of performing residential solar installations as well. For every 20 solar systems installed by Veteran Owned Solar, the company donates one system to a veteran within its community.
Semper Solaris
California-based
Semper Solaris, inspired by the Marine Corps motto, Semper Fidelis, installs solar panels, battery storage, roofing, and heating and air conditioning services throughout the state. The company remains committed to hiring and empowering members of our armed forces who share the same integrity, loyalty and responsibility as the company's founders.
GC Green Incorporated
GC Green Inc. is a service-disabled veteran-owned business based in San Diego, CA. It provides engineering services, technology selection and project finance management services.

Karsten Neumeister

is a solar energy specialist passionate about sustainable development, environmental and cultural change. Before joining EcoWatch, Karsten worked in the energy sector of New Orleans, focusing on renewable energy policy and technology. A lover of music and the outdoors, Karsten might be found rock climbing, canoeing or writing songs when away from the workplace.