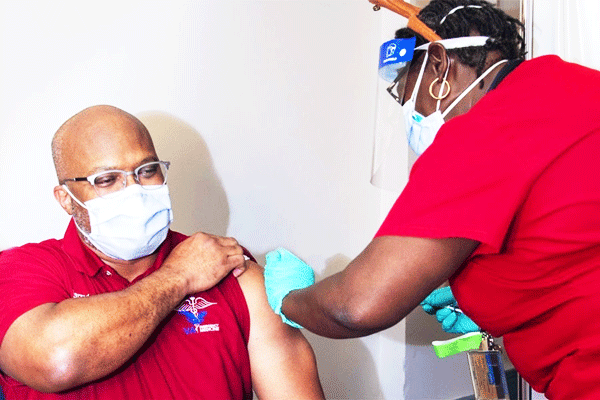 Dear Veteran:

As we enter into the New Year, the Department of Veterans Affairs remains dedicated to keeping our Veterans and employees healthy. That's why we follow Centers for Disease Control and Prevention (CDC) guidance on COVID-19 booster shots and additional vaccine doses.

VA encourages Veterans and their families to get boosted.
What is a booster shot?
A booster shot is a supplemental dose of vaccine, given several months after the first series or single-dose regimen of a vaccine and timed when antibody protection is falling, with a goal of "boosting" antibodies and protection.
A booster shot can help you stay fully protected over time.
Data shows that protection against milder illness lessens over time. This is especially true for certain groups of people. The CDC recommends that everyone who is at least 12 years old should get a booster shot. Not all VA health facilities offer vaccines to youth under age 18. Learn about getting a booster shot.
Some people need an additional dose to get full protection.
Certain groups of people may not have had a strong enough immune response from the first two doses. These groups should get both a third dose and then a booster shot six months after their third dose. Learn about getting an additional dose.
When to get a booster shot?
You can only get a booster shot if you completed your primary vaccine series. If you got an initial series of the Moderna or Pfizer vaccines, you can get a booster shot at least six months after your second shot. If you initially got the Johnson & Johnson vaccine, you can get a booster shot two months after your initial dose.
How to get a booster shot?
If you're a Veteran who receives care through VA, your local VA health facility will contact you when you're due for your shot. Your facility may offer you a booster by appointment or at a walk-in vaccine clinic. Find VA health facilities near you that offer COVID-19 vaccines. If you don't receive care through VA or if you received your primary vaccine series outside of VA, contact your local VA health facility to find out how you can get your shot. To get a booster shot in your community, contact your primary health care provider or a location that provides free COVID-19 vaccines in your community. Find a COVID-19 vaccine near you at vaccines.gov.
For more information
To learn more about COVID-19 booster shots, visit va.gov/health/docs/COVID-19-Vaccine-Booster-8-Important-Facts.pdf or watch our latest video on boosters at https://www.youtube.com/watch?v=xvluWkdXdrQ. To learn about COVID-19 vaccines at VA, visit va.gov/health-care/covid-19-vaccine/. If you have more questions about COVID-19 vaccines, visit va.gov/initiatives/have-questions-before-you-get-your-covid-19-vaccine/. If you need help talking about COVID-19 vaccine boosters with those you care about, visit va.gov/health/docs/COVID-19-Vaccine-Booster-How-To-Talk.pdf. Please note that information on this topic continues to evolve. For the latest information, visit CDC's What's New & Updated. VHA has also updated their information on VA.gov with the CDC's updated guidance at va.gov/health-care/covid-19-vaccine/booster-shots-and-additional-doses/.
If you know a Veteran who is in crisis, call the Veterans Crisis Line at 1-800-273-8255 and press 1.