When considering an Industrial and Instrumentation Technology School, it's important to ensure that you're comfortable with not only the course material but also the future job prospects. Instrumentation Engineering covers a wide range of subfields, including Instrumentation Technology and Industrial Maintenance. Getting the right education through an Industrial Maintenance School in Baton Rouge will mean that your future job prospects will be bright, and also that you'll need to decide where your passion and interest are.
Here are just some of the career paths that could result from training at an I & E Technician School.
Instrumentation Maintenance Technician
Every facility needs a team of skilled maintenance technicians to keep things running. When you study for our Industrial Instrumentation Certificate or our Instrument & Control Systems Technology Associate of Occupational Studies (AOS) degree at ITI Technical College, you'll learn about key electrical systems and other systems that are used in the industry. An entry-level job could mean that you are a maintenance technician within an industrial facility, performing routine inspections and performing maintenance work as it is required. This could mean working on pumping systems, electrical systems, and other mechanical systems related to automated or semi-automated processes.
If you're someone who loves technical challenges, then this entry-level role would be a great first step on the career ladder and could lead to roles as a senior technician, supervisor, safety inspector, or control room operator.
Control Center or NOC Technician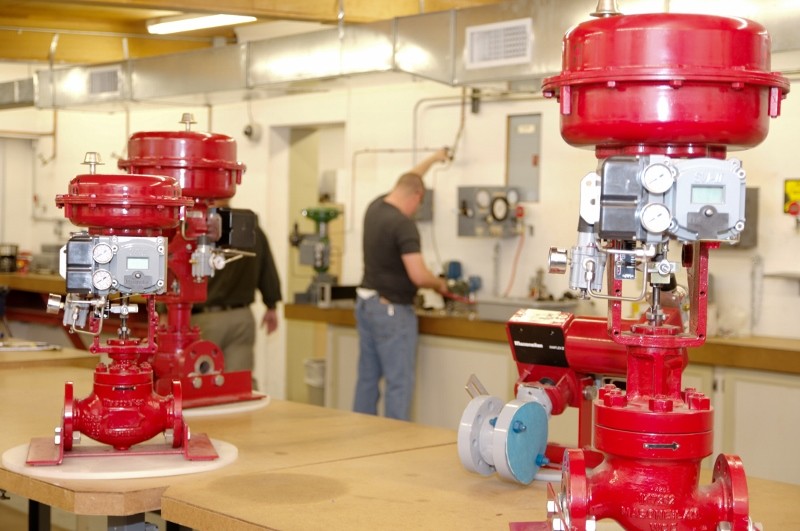 Any industrial plant needs a control center. This is the brain of the facility, from where important information can be continuously monitored, allowing for coordination between maintenance teams and other technicians in the facility.
With training at an Instrumentation Technology School, you'll learn about the key technologies that are used in instrumentation and process control. This can mean that you'll be ready to work in a control center, or will at least give you the foundation to move up to a control center operator after you've proved yourself as an entry-level inspection, operation, or maintenance technician.
There are control centers used in varied industries, such as water treatment, electricity generation, oil and gas, manufacturing, and chemical production.
Another benefit of completing Industrial Maintenance Training is that you'll be able to take your skills and experience to other industries. Instrumentation maintenance is detail orientated and highly technical. You'll learn about how individual systems interact with each other to complete the overall function of large operating plants. You'll also learn the mechanics of individual control systems and instrumentation readouts. The working style that you develop could make you an ideal candidate for management positions once you've already gained experience. You could also take your skills and move to other systems-based industries, such as Information Technology. As an example, a Network Operations Center (NOC) Technician performs a function that is not vastly different from what a Control Center Technician would do in an industrial plant. They monitor virtual and physical networks for Internet Service Providers and companies that run large private networks.
By learning about Instrumentation and Control System Technologies today, you could create future opportunities that fall outside of traditional industries.
Programmable Logic Controller Technician
During your study, you will be introduced to Programmable Logic Controllers (PLC), which are systems that control individual functions within manufacturing facilities. As you progress through your career, you may wish to specialize in PLC and make the step to becoming a PLC Technician. This would mean that you primarily deal with the design, programming, maintenance, and repair of PLC systems.
If you choose this path, you won't just be limited to manufacturing and large industry. PLCs are used in applications as diverse as traffic light control and theme park automation.
Get the Knowledge You Need to Reach Your Goals at Instrumentation Technology School
Whatever your ultimate career goals are, you'll need to take the first step by getting the right education. ITI Technical College in Louisiana offers an Associate's of Occupational Studies (AOS) Degree in Instrument & Control System Technology that can help you achieve the future that you're looking for. Contact us today for course information and enrolment.
For more information about graduation rates, the median debt of students who completed the program, and other important information, please visit our website: https://iticollege.edu/disclosures/