ITI Students and Staff Help Provide "Better Lives" for Veterans
Baton Rouge, LA: On April 1, 2016, ITI Technical College and St. George Fire Department joined forces to help raise over $10,000 for a local organization. They combined to host the first annual Wounded War Heroes Jambalaya Fundraiser. ITI Veterans' Student Chapter President Brandon Hotard was excited with the turnout of all the volunteers. He says, "Without all the hard work and dedication by the volunteers from St. George Fire Department and ITI Technical College, we would have never been able to pull off this successful fundraiser." He went on to say, "The support our community gives for our Veterans is overwhelming and the community did not disappoint as evidenced by us pre-selling close to 1500 jambalaya plates."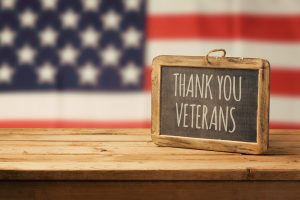 Wounded War Heroes is a local organization based in Gonzales, LA that strives to assist veterans who have served our country. The organization's Chairman Emeric Watson says, "Wounded War Heroes was founded to show our appreciation to the men and women who have been wounded while in combat, by providing them with fishing and hunting opportunities upon their return home from fighting for our country.  Our sole purpose is to show these veterans that they have not been forgotten for their courageous service to our country." To serve this mission, 100 percent of all donations go directly to veterans. To learn more about this local organization, visit their website at www.wwhfr.com.
ITI Technical College periodically provides volunteer opportunities for its students and staff. When it came time to ask for volunteers to prepare, cook, pack, serve, and deliver the jambalaya, there was no shortage. Over 160 students and staff signed up to be a part of this fundraiser. ITI Technical College lives by the motto "Provide Better Lives for Veterans!" The school's mission is to help prepare graduates for careers that will allow them to better provide for their families. The students at ITI are focused on making a "better life" not only for their families but also for their entire community.
About ITI Technical College: ITI Technical College was founded over 40 years ago and was formed to fit the needs of business and industry in Louisiana and the Gulf Coast region. The objective still remains the same today – to train workers to meet the job requirements of a progressive technological age. To learn more about ITI Technical College contact us today or come visit the beautiful campus located at 13944 Airline Hwy, Baton Rouge, LA.
Michael Champagne
ITI Technical College
225-752-4233
[email protected]