A career in the HVAC installation and repair industry can be highly rewarding. Of course, before you can get started, you'll need to take part in a training program that will allow you to understand the fundamentals of heating and ventilation units, while being able to identify the right solutions for different scenarios. Not every home or business location is the same, and different users have varying needs. Even so, there are two highly popular types of units that you will come across during training, and in your career. These units are split type systems, and packaged air conditioning systems.
Understanding Split Air Conditioners Before AC Repair School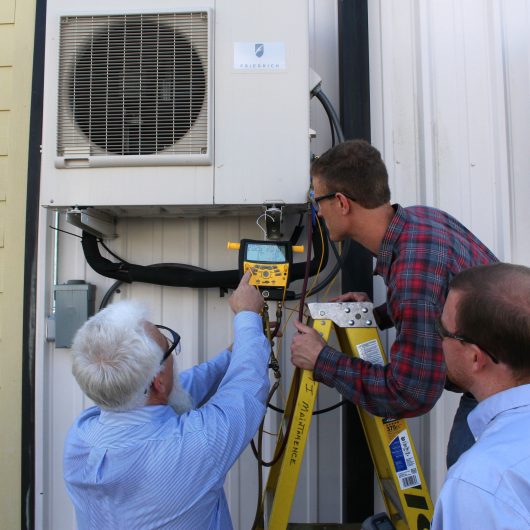 Split type units are the most popular air conditioners that are used in modern homes and businesses. Highly efficient and versatile, these units can minimize utility bills when installed and maintained correctly.
Understanding the different components of such a system will be necessary as you learn how to install and troubleshoot these systems. Split units are made up of an outdoor unit, and an indoor unit that is usually mounted on a wall. The outdoor unit consists of the condenser and compressor, as well as a fan that assists the airflow of the hot air that is removed from within any premises. Indoor units include an evaporator, and a fan for distributing cool or warm air.
These units don't just provide the advantage of being highly efficient, but they also save interior space and can reduce the difficulty of any installation. Because most of the hardware is located in an outdoor pedestal unit, there is minimal ducting that needs to be installed. This means that even when these units are retrofitted, installation time and cost is kept to a minimum.
With our course in air conditioning, refrigeration, and electrical technology, you will have the knowledge that you need to identify the right system for any particular project, and you will know how to troubleshoot the system, including everything from the gas in the condenser, to the electrical components inside of the unit.
Packaged Air Conditioning Systems for Specialist Installations
In the field, packaged systems can often be found in older installations, but they're also commonplace in some specific scenarios where space is a major concern. With such a system, all of the components are housed within a single unit. Airflow is then ducted and distributed through a vent within the interior of a home or office. The benefit of such a system is that it can save space, which means that these systems can be useful in smaller homes, offices, or even in mobile homes.
There are some compromises with such a system. If used for central heating and cooling, a packaged system won't allow for individual climate settings in different rooms. A larger installation will also require significant ducting to pass air, including supply and return ducting. These units are also significantly less energy efficient than a split air conditioner.
Even though a packaged system has some major differences when compared to a split air conditioner, many of the fundamentals are similar. The key difference will be when packaged systems use a natural gas burner for central heating.
HVAC Training from a well known School in Louisiana
AT ITI Technical College, we understand the challenges of HVAC professionals in a demanding market. With courses designed to give you a broad overview of the industry, along with the technical knowledge that you need to serve a range of clients with different solutions, you can be sure that ITI can help you to develop your skills and build your career. Courses include certification in HVAC and refrigeration, ensuring that you're prepared to enter the industry. Other benefits include electrical training for safety, circuitry, and various wiring methods.
Contact us today for further information on our HVAC school courses, including all requirements and enrollment details.
For more information about graduation rates, the median debt of students who completed the program, and other important information, please visit our website: https://iticollege.edu/disclosures/