People at any time can feel the drive to improve themselves, their quality of life, or want to pursue a new career. Apprenticeships are good for learning the skills of the trade, but sometimes that's not enough. People now more than ever are taking life by the horns to pursue a better life and focused on sharpening their skills or gaining new ones.
Here at ITI, our focus is preparing students For a Better Life. The HVAC industry can be competitive, but the skill set needed is necessary to succeed. Here at ITI College we offer HVAC training in order to help students pursuing their HVAC license to learn the skills necessary to earn their certification.
What Program is HVAC Training Connected to at ITI Technical College?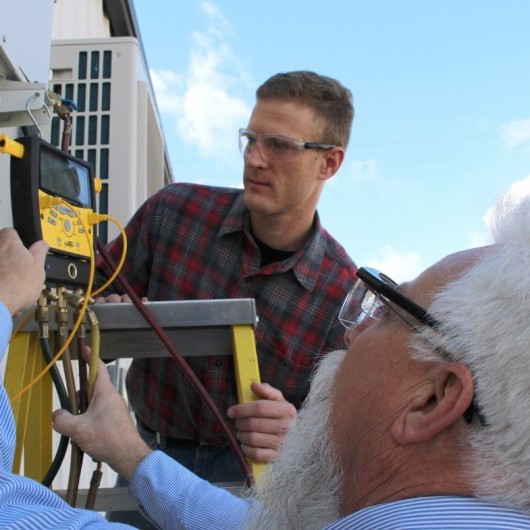 HVAC training is part of our Associate in Occupational Studies Degree Program. The focus is to educate students in the specifics of their chosen program like air conditioning, refrigeration, and electrical technology. We also have a certificate program for air conditioning and electrical technology for students wishing to further improve their skills in this area.
Our AOS program (Association in Occupational Studies) is an accelerated program designed to permit students to have the opportunity to learn the concepts and practices of electrical technology, refrigeration, heating equipment, and air conditioning. Students are presented with several aspects of this occupation including the fundamentals of safe work practices, regulations governing these systems, refrigerants, and more.
Why Should I Pursue a HVAC License?
One of the biggest questions is why someone would want to receive HVAC training in the first place. What are the benefits for this career path? The truth is, there are many job opportunities in the HVAC job industry once you start to look for them.
One of the many benefits is that first and foremost, people in the United States rely heavily on their HVAC systems. During the summer and winter months, people are using these systems to keep their homes at optimal temperatures. The constant heating and cooling of the home can account for a large chunk of the electric bill for many people. This means professionals are needed to repair, maintain, and even install these complicated HVAC systems.
What Job Opportunities are available to me if I Receive an HVAC License?
There are quite a few job opportunities available to people who go through HVAC training. These heating and cooling systems are very complicated and require an expert hand in order to repair them. People rely on HVAC systems to heat and cool their homes, so this has created a market to maintain these systems.
Job opportunities vary from area to area, how much HVAC system maintenance is required, and how harsh the temperatures are at any given time. There are some people who decide to be their own bosses and are on call to repair HVAC systems. Another job opportunity is to work for a company who specializes in repairing, installing, and maintaining HVAC systems. There are many benefits that come along with each of these job options, but they're only the tip of iceberg when it comes to the opportunities available in the industry.
Our focus here at ITI is to help prepare students For a Better Life. We understand how today's world is highly competitive and fast paced. Keeping up can be hard and requires a certain amount of skill to rise above your peers. Here at ITI, we are prepared to help our students to learn, gain, and practice the skills necessary to succeed in their studies. Our program covers many topics including:
* AC load calculations
* Troubleshooting of refrigeration
* Troubleshooting of air conditioning systems
* Laboratory activities using real field grade equipment
These are only a few of the topics covered in and outside of the classroom. Students will be able to take a hands on approach with some of the equipment necessary in the industry. Why not take the first step to applying for your HVAC license today by taking enrolling in the program?
For more information about graduation rates, the median debt of students who completed the program, and other important information, please visit our website: https://iticollege.edu/disclosures/