Construction Manager School
Did you enjoy building Lego cities as a kid? Or how about building big, intricate forts with your friends? If you did, a career in construction management may be a great fit for you! You may be concerned at the thought of going to school for several years; either you'd like to get to work soon, or you've already been through school, and though going back might be a good decision, you still have bills to pay and, in some cases, mouths to feed! ITI Technical College has an accelerated construction management training program specifically for those who would like a quality education, but still need to get through school quickly. Would you like to learn more about ITI Technical's Construction Management School?
What Types of Construction Will I Be Equipped to Manage?
Professionals in construction management are typically those attracted to building or designing, who thrive in managing roles where they can oversee the overall planning, coordination and control of a project from the beginning until completion. Construction Management is aimed at meeting the client's expectation in producing the envisioned product, which should be functionally sound and financially viable for many, many years to come by the time of its completion.
Specifically, as a construction manager, you'll be responsible for overseeing projects, meeting compliance standards, coordinating with subcontractors, selecting the appropriate tools for use, meeting performance standards, sticking to a schedule, planning for emergencies, obtaining important licenses, and communicating with your team as well as the client. What kinds of jobs might you be responsible for? If residential construction is your aim, we've got you covered in terms of education; if commercial building construction is your goal, well, we have you covered there, too! Construction Managers who come out of our training at ITI are equipped to take on all kinds of jobs – big ones included.
Construction Management Training at ITI Technical College
If you're interested in construction management as a career, there's no better place to kickstart your education than here at ITI Technical College. At our Construction Project Management Program, located in Baton Rouge, we understand that you want to get to work. So, while we do take the time to make sure you learn everything you need to learn for a successful career, we do it on an accelerated learning schedule to ensure that you can get to work as quickly as possible.
Day and evening classes, and other flexible options will help to ensure that you get the type of education you need to really put the pedal to the floor on your learning experience, especially if you're juggling things like work, life and family. Our program is a top tier program, with expert teachers who truly care to see you succeed. In classroom training includes emphasis on learning and applying the nitty gritty parts of the job: dealing with employees, ordering materials, delegating tasks, communicating with clients, maintaining compliance, hiring and managing subcontractors, and meeting important performance milestones.
Why ITI?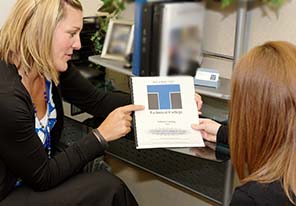 You might be wondering why ITI is the best choice for your construction management training; simply stated: at ITI Technical College, we want to equip our students not only with the tools to form a career, but with the tools to form the right career for them. We pride ourselves on offering occupational studies for vocational work that will be relevant regardless of what changes in the economy over the years. In other words, the degrees pursuable at ITI are more than just words on paper; they're degrees that will amount to a successful career doing important work – a pivotal part of that first step in selecting the right career.
This isn't just a type of education we offer, it's what we specialize in because we want our students to find themselves one day in a career that's perfectly suited for them, where they can grow and always find work. Since our founding in 1973, we have provided the best of the best in training programs that exist based on the needs of the time and of the business and industrial community.
So, if you're considering a construction management degree – don't think twice about it: gravitate toward our school, where you'll receive a quality education on an accelerated yet extremely flexible schedule.
For more information about graduation rates, the median debt of students who completed the program, and other important information, please visit our website: https://iticollege.edu/disclosures/