A career as a drafter can be highly challenging, as well as highly rewarding. Whether you choose to specialize in areas like piping or civil drafting, or even architectural drafting, you will find that with the right skills, you will be employable and in high demand. With experience and a solid foundation in education, you will find that your drafting skills are transferrable all across the United States, and even abroad if you seek new challenges and opportunities. At ITI Technical College, drafting courses will provide you with the background you need, and the right specialization paths that will ensure that your personal career goals are met.
The Basics of Drafting Education at ITI Technical College
Before you even choose a specialization from our drafting school programs, you will need to think about the basics that form the foundation of a drafting career. When you choose to study at ITI, you will receive the right kind of background so that you can apply learned skills to your chosen areas of specialization. Mathematics is an essential building block for any specialized area of drafting, and at our technical college, you will study the fundamentals of general mathematics, as well as other aspects of number theory such as algebra, trigonometry, geometry, and the Cartesian coordinate system. A strong foundation in mathematics will help you to perform your functions as a drafter, with accurate, logical, and efficient technical drawings.
How Has Drafting College Evolved with Technology?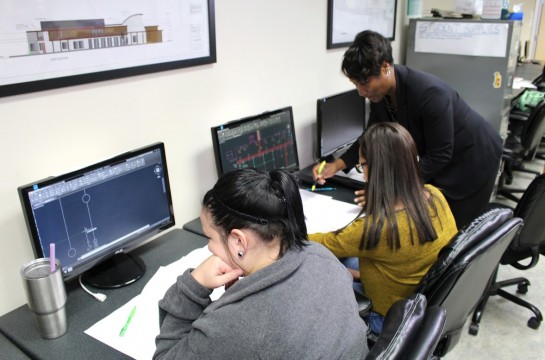 Traditional drafters worked with boards to create initial and final technical drawings. With the use of various instruments, highly accurate drawings could be drafted, and these manual drafts have remained valid within the drafting industry for decades. However, as with all disciplines, technology has allowed for advancements in the way that tasks are performed, and in drafting things are made more efficient with the use of computer-aided drafting (CAD). Because of the prevalence of CAD in the drafting industry, computer-based technologies are a significant aspect of the architectural drafting school at ITI.
There are a number of benefits to CAD, each of which you will explore in depth during your studies.
One of the biggest benefits of working with computer-aided drafting is that errors are reduced, and essentially eliminated during the design process. Because CAD software enforces exacting measurements and geometry, simple human errors are eliminated. Not only does this mean that technical drawings are more accurate, but it also ensures that the process of drafting is faster and more efficient. Using relatively affordable computer systems and design software, companies and civil organizations can reduce the costs of drafting, and drafters can reduce the time spent on drawing, which means there is more time for creativity, problem-solving, or even taking on multiple projects.
Automation is another huge benefit of CAD, and at ITI Technical College, you can learn about various instances where automation would be appropriate. Simple tasks like placing symbols on a drawing, or reusing existing drawings or elements, are streamlined with the aid of computer software. Again, this increases efficiency and removes much of the tedium that previously existed in drafting. By automating repetitive tasks, it is possible that creative problem-solving is increased, as you will feel more engaged on any particular project.
Taking Advantage of CAD Through Education

None of these benefits would matter if you didn't have the right skills and education to take advantage of modern drafting technologies. ITI Technical College takes the best of CAD, while also providing the right skills so that you can work in both traditional and modern drafting methods. While education and technology have progressed, it is still important to have a solid foundation in traditional board drawing, and many drafters still create preliminary plans on traditional boards, before transferring their ideas to a digital platform.
If you're interested in specializing in any area of drafting, talk to ITI Technical College in Baton Rouge. Our School of Drafting and Design will provide you with the skills and qualifications that you need to begin your career and take advantage of the numerous employment opportunities that exist domestically, and internationally.
For more information about graduation rates, the median debt of students who completed the program, and other important information, please visit our website: https://iticollege.edu/disclosures/