If you're a creative person who loves technical challenges, you could be a perfect candidate for a CAD & architectural drafting program. A drafting background can help you to go on to design products, machinery, tools, civil works, or nearly anything that you can imagine. Drafting professionals are in high demand, but you'll need to have the right drafting education to get recognized in the industry. If you're a high school graduate or someone looking to change career paths, then studying at ITI Technical College could be a great option for you.
Learn The Skills at our School of Drafting and Design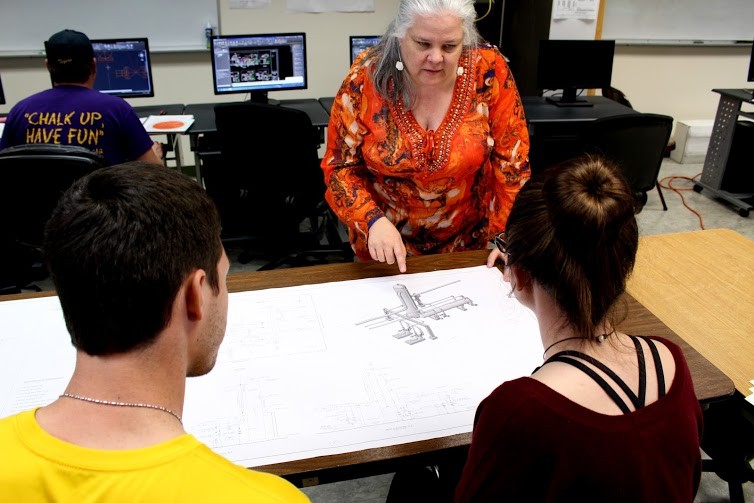 Becoming a drafter is a solid career move, simply because your skills will always be in demand. There will always be a need to create CAD drawings from specifications, architectural drawings, or designs from engineers in all fields. You will take on the role of someone who takes a concept and turns it into a fully realized computer model, making you an integral part of the design and planning process. If you've always wanted to be at the forefront of design and innovation, then a drafting education at ITI Technical College can help you to realize your goals.
It is so important to have the right skills, and that's why taking a structured course of study at a recognized learning institution is your first step to success. At ITI, you can study for an Associate's Degree in Occupational Studies, which will prepare you for employment in a number of ways.
One of the most important skills you will learn with an Associate's Degree in Occupational Studies is a computer-aided drafting (CAD). By becoming skilled in the industry-leading AutoCAD software, you'll be able to work quickly and efficiently to bring concepts and specifications to life in full 3D models. At ITI, you'll learn about multi-view drawings, which will be essential when working on products like tools and machinery, or larger projects like homes, commercial buildings, and infrastructure. The more you learn about AutoCAD and the more comfortable you become with the software, the better you will be able to demonstrate your skills in the professional world. If you're someone who can complete drafting projects quickly and accurately, then you're going to gain more recognition and have better chances to further your career.
What You Can Expect With Drafting Education
As a junior drafter, it will be your job to take designs provided by architects or engineers and turn them into accurate technical drawings that can be used to further any particular project. Drafters are employed in a range of industries, but you can choose to specialize in an area that interests you the most. If you want to work on the buildings of tomorrow, then you'll want to focus on architectural drafting. If you like the challenge of working on machinery, product, and tool design, then you may be more interested in mechanical drafting. You can seek advice and support throughout your drafting education, allowing you to explore and develop your skills in an environment that is designed to help you succeed.
According to BLS.gov the median salary of a drafter is over $52,000 per year, making the industry highly rewarding from a financial perspective. Since the drafting industry is highly competitive, you'll need to not only be highly motivated in order to stand out but you'll also need your Associate's Degree. If you enjoy a career that is challenging, the job satisfaction and financial compensation are well worth it.
If you are ready to step up, now is the time to enroll.
Register Interest in our CAD & Architectural Drafting Degree Today
If you want to be prepared for our next term, now is the time to give us a call. We'll talk you through the course entry requirements and begin the enrollment process if you're ready to proceed. Our courses are designed to be easily accessible and affordable, and financial assistance may be available to those who apply. Talk to us today, and prepare for a drafting education that could lead you to an essential role in the future of our country.
For more information about graduation rates, the median debt of students who completed the program, and other important information, please visit our website: https://iticollege.edu/disclosures/