If you want to be in a career where there's always a challenge and opportunities to work in diverse environments, then you would fit right in with HVAC service training. By training to enter the HVAC industry, you'll be preparing yourself to work with clients in other industries throughout the country. That means meeting new people, working on different systems, and finding new challenges.
These are just three industries where HVAC is widely utilized, and your HVAC training could have you working closely with companies in any of these areas.
HVAC Systems are Essential to Pharmaceutical Production
The pharmaceutical industry is critical for providing medical products that cure, treat, and manage a range of different conditions. The production of pharmaceutical goods can be a complex process, and facilities need to be maintained to exacting standards of temperature and humidity. On any site that stores or produces pharmaceutical products, HVAC systems are essential. Systems need to be maintained to a high standard, and some companies will even retain their own maintenance staff to ensure that HVAC installations are always up and running. Your HVAC service training could mean that you will find employment in the pharmaceutical industry as a full-time staff member within a manufacturing or research company. Even if you find employment with an HVAC contracting company, you may end up working for pharmaceutical producers in the future.
HVAC Systems in Hospitals and Other Medical Facilities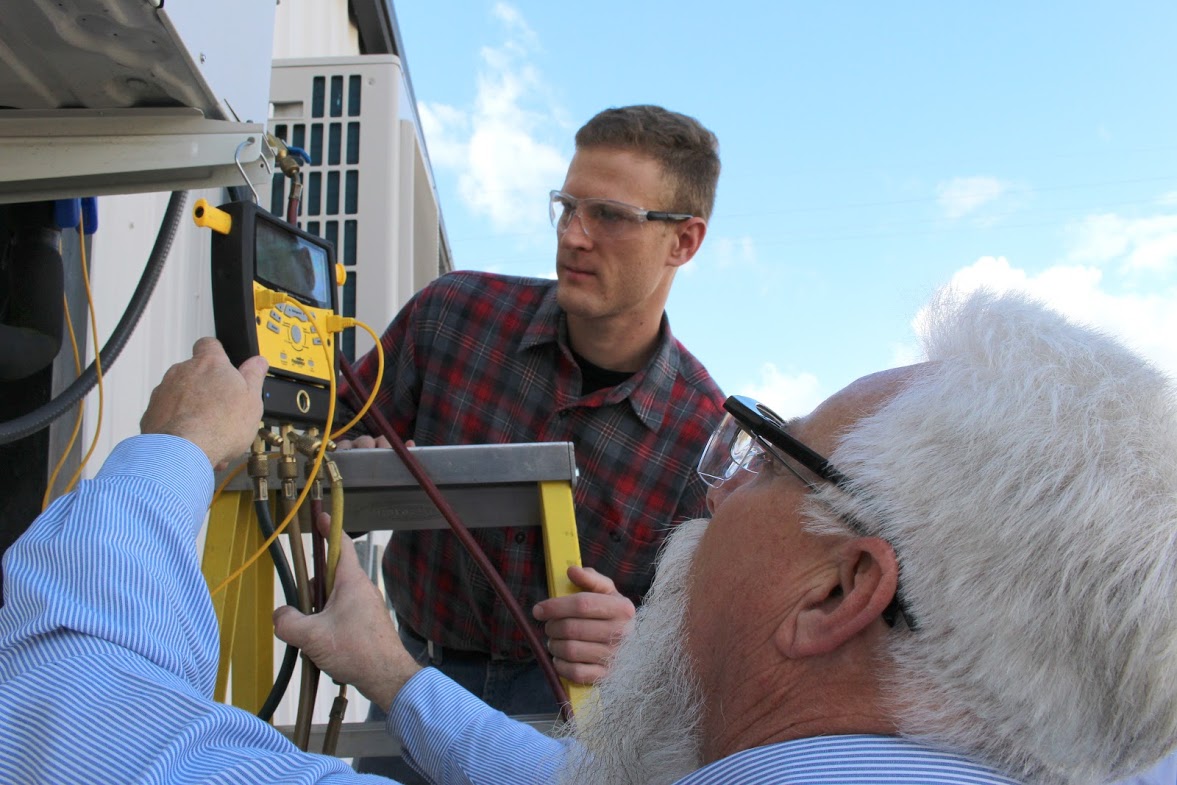 Hospital air needs to be clean and safe, and temperatures need to be maintained within specific ranges to ensure the comfort of both staff and patients. For hospitals of all sizes in the United States, an HVAC system is almost a guarantee. If your career leads you to work as a maintenance technician at a hospital or any other medical care facility, you will be one of the most important engineers within the organization. Due to the size of hospitals and the complexity of the systems, you would need to divide your time between maintenance, repairs, and possible installation of new systems.
Your experience with ventilation systems may also mean that you will work with other systems like UV filtration devices. These are special ventilation systems that use UV light to sterilize the air within healthcare facilities. While you may not specifically learn about these devices in HVAC school, your experience will allow you to quickly adapt to service and install these units.
Absolute professionalism and a high level of skill will be required to work in any healthcare facility, whether you are hired as an in-house technician, or you are a subcontractor providing services for a hospital.
Commercial Office Buildings
Perhaps the most widespread use of HVAC technologies is in commercial and mixed-use buildings. In major cities across America, HVAC is used to circulate clean and cool (or warm, depending on the climate) air throughout commercial buildings. Much like the other two applications we have discussed here, commercial installations can be large and complex. You will find that most mid to large-sized commercial buildings will use a number of units to effectively ventilate interior spaces. In high-rise office buildings, the systems will be especially large. Working on commercial sites can be a challenge, but will be extremely rewarding if you like to apply your logic and problem-solving skills. Troubleshooting a fault can be time-consuming, and new installations in large commercial offices will test all of your learning and experience in the field.
Commercial work is highly lucrative, and most technicians find it more engaging than standard residential HVAC work.
Get the Training You Need at Heating and Air Conditioning School
If you want to be competitive in the job market with a high chance of job placement, it's best to study air conditioning through a degree program. At ITI Technical College, we offer a two-year Associate of Occupational Studies (AOS) Degree program for those who want to get skilled in the HVAC industry. Contact us today to explore your options and take a positive step toward your future.
For more information about graduation rates, the median debt of students who completed the program, and other important information, please visit our website: https://iticollege.edu/disclosures/