Someone says, "IT" and you might only think, "Computer maintenance". It's time to change that line of thought, however, after you learn all of the career opportunities available to those with an IT degree. It's true, IT training does require an interest in learning intricate details behind how things work, but there's a whole different world in terms of how that information can be applied. At ITI Technical College, we have an Information Technology School that will explore and cover every corner of IT world to equip students for a thriving career in any one of these three career fields.
One: Homeland Security Officer

Information Technology Security is a field growing significantly in opportunity due to the advancements of technology and the progression of time; unfortunately, cyber attacks and online security breaches are very real threats in today's time. The goal is to keep the right information in the right hands, and to keep the information safely under virtual lock and key to preserve its value, confidentiality, and integrity, no matter how sensitive or how important it is. Unauthorized users who access important data would, most likely, be interested in using it in an unauthorized way. Misuse, modification, destruction and improper disclosure are all results of a lack of security when information gets placed in the wrong hands.
For that reason, it's completely feasible to form a stable, thriving, exciting career as an Information Technology Security officer: where you'll play a pivotal role in implementing processes, protocols, and other measures designed to safeguard important information. IT Security is implemented for everything from use on a personal level to a business level, protecting things like data, conversations via voice and text, pictures, and videos from unauthorized access. Also, as previously mentioned, IT Security is a vital part of protecting our Homeland, the United States of America. So… looking for a solid career protecting our country? Consider a career in Homeland Security as an IT Security Officer.
Two: Mobile App Developer
We all have smart phones, and we all have countless apps that we use for fun and rely on every day. The fact of the matter is that someone created each and every app we use as a part of their day to day career, and they loved every minute of it. Mobile app development is a thriving industry, as mobile technology has exceeded personal computers in recent years. ITI Technical College provides a concentration in Program Development that will thoroughly equip students to utilize basic coding languages for mobile application development. Specifically, the Programming Specialization at ITI offers students the opportunity to develop basic concepts of computer programming, specifically in regards to the two most popular programming languages – C# and Visual Basic.NET. Additionally, Programming students will learn to develop PC applications, web applications and database-related applications.
Three: Health IT Specialist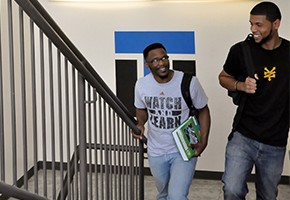 Interested in a career in medicine, but unsure how IT fits into that? These days it's not really a stretch to see: health information technology is growing in leaps in bounds along with the ongoing changes in healthcare and the gradual transition to electronic health records. Health IT specialists will build their career surrounding computer knowledge while intermixing record keeping skills and specializing in medical coding, billing and cancer registry. This career choice requires a specialization in networks, which ITI provides. Specifically, the Networking Specialization at ITI Technical offers students the opportunity to understand hardware, software, organizational environments, networking system applications, and networking communications… all relevant to a career in Healthcare IT.
If you're considering a career in Information Technology, a great choice is the Information Technology Program you'll find at ITI Technical College. ITI Technical prides itself on offering occupational studies for vocational work that will be relevant regardless of what changes in the economy over the years. Since our founding in 1973, we have provided training programs that exist based on the needs of the time and of the business and industrial community; for decades, our focus has been on training personnel to meet job requirements of the technical age. Our teaching staff are experts in their fields and are completely dedicated to making the experience a positive one for you that only ends in success.
Don't get stuck in a rut thinking that a career in IT means a career in an office cubicle answering computer questions for the rest of your life. Check out our Web site or give us a call for more information on how you can secure a thriving career in Information Technology.
For more information about graduation rates, the median debt of students who completed the program, and other important information, please visit our website: https://iticollege.edu/disclosures/